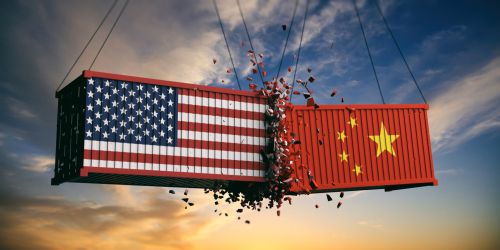 Talks resuming after G20 trade war "truce" declared.
The United States and China will resume talks on trade issues next week, according to President Trump's chief economic advisor Larry Kudlow. The talks will be held by phone and face to face.
The talks represent a new start after previous talks ended with a stalemate. The stalemate was seen as broken by the G20 meeting, when Presidents Trump and Xi agreed to a truce on trade issues.
Special:
Urgent: Three 5G Stocks to Buy ASAP
As talks have started again, President Trump is committing to hold off on imposing an additional $300 billion in tariffs against China, one of the largest trading partners the United States has.
Talks previously fell apart after the Chinese reneged on trade language that had previously been negotiated. Whether that will change in subsequent calls or meetings remains to be seen.
In addition to declaring a truce, both sides offered some concessions. President Trump allowed Chinese firm Huawei to do business with the U.S., and China agreed to large purchases of agricultural goods.
Positive trade war news typically helps the market move higher on a day-to-day basis, whereas bad news on trade issues tends to send markets reeling. So expect some bullishness in the markets while the negotiations restart, but be prepared for some volatility as they hit the inevitable snag.
3 Red-Hot 5G Stocks: The Death of Comcast Is Near

New 5G technology will be 100x faster than your home internet, and Comcast is worried. We've identified 3 stocks that are set to produce returns as high as 3,217%.

Click here to see for yourself before it's too late. Get in early and own these 5G stocks on the cheap.