Recently, Stitch Fix Inc. (Nasdaq: SFIX) reported earnings and the stock price jumped more than 25% on the news. Traders could benefit from anticipating the news if they are on the right side of a trade like this.
Special:
Urgent: Three 5G Stocks to Buy ASAP
In this case, the rewards were significant as the chart below shows. The stock began trading in December and the chart below shows all available trading history. As is typical in many initial public offerings, the stock soared after it began trading.
But, of course, they could suffer steep losses if they are on the wrong side of the news. There is no way to anticipate the news with 100% accuracy but there are some ideas that could prove to be helpful. These ideas will be based on technical analysis.
3 Red-Hot 5G Stocks: The Death of Comcast Is Near

New 5G technology will be 100x faster than your home internet, and Comcast is worried. We've identified 3 stocks that are set to produce returns as high as 3,217%.

Click here to see for yourself before it's too late. Get in early and own these 5G stocks on the cheap.
Technical Analysis Works to Anticipate the News
In the stock market, there are a number of ways to develop an analysis. Many analysts rely on fundamental analysis. This could be done with SFIX.
The company is an online personalized styling service company offering apparel, shoes and accessories across categories, brands, product types and price points. The company currently serves women, petite sizes, women looking for maternity clothes, plus sized shoppers and men.
Stitch Fix reports that its "data science capabilities fuel business consist of rich and growing set of detailed client and merchandise data and proprietary algorithms.
Stitch Fix has grown rapidly by convincing more people to try its service. The company asks consumers about their clothing preferences, then uses software and human stylists to select and send them a custom package of apparel.
The Company uses data science throughout its business, including prediction of purchase behavior, forecast demand, to optimize inventory and design new apparel. The more data its users share, the smarter the company gets at selecting clothes, leading to higher sales and fewer returns."
Knowing what it does, it's possible to prepare a detailed earnings model for the company. Profits per customer could be determined, since the company has been providing information about the number of active customers it has, growth forecasts could be developed.
In the most recent quarter, the company said that it had 2.7 million active clients, up 30% from the same period last year.
Growth could continue as the company also announced a new kids line. The move is a "natural extension" for Stitch Fix because over half of its clients have at least one child, Stifel Nicolaus & Co. analyst Scott Devitt said in a note to clients.
Kids should be especially valuable as the retail market heads into the back to school season at the end of summer, Piper Jaffray analyst Erinn Murphy said.
A fundamental model should also consider competition. Notable is a possible threat from Amazon.com Inc. Last year, the e-commerce giant unveiled Prime Wardrobe, which lets users combine items into a shipment, try them on, and then return the unwanted pieces.
Stitch Fix Chief Executive Officer Katrina Lake isn't too worried about Amazon. The vast majority of clothing purchases are still done in-store at places like Macy's Inc. or Target Corp., and there's plenty of room online for multiple players, Lake said.
"We're not in a place where we're competing with Amazon head to head for every dollar," she added.
Technicals analysts would ignore all of this and simply develop an opinion based on the price action.
Consider the Technicals Heading into Earnings
Companies announce the date they will release earnings at least several days in advance. Often, the announcement will be scheduled weeks in advance. Most companies deliver the announcements every twelve weeks, so the expected date could also be forecast.
Earnings announcements provide new information and the earnings models of fundamental analysts will need to be updated quickly after the news is released. Traders will react to the news and throughout the day, analysts often comment on their adjustments to the model.
Updates to their opinions by analysts can continue to reinforce the trend throughout the next several days as traders receive new insights into the company from the analysts who closely follow industry trends and may be in contact with management, suppliers and customers.
Few individual investors have access to this depth of information. However, they could use technical analysis to assess how the market is reacting to the upcoming announcement.
Technical analysis is the study of market action. It ignores fundamental information because technical analysts believe the current market price reflects the available information. This assumption means that fundamental analysts have analyzed the company and the price incorporates those analyses.
The chart below show SFIX three days before the news is released. The stochastic oscillator is at the bottom of the chart. This is a popular measure of momentum.
Notice that stochastics turned up and gave a bullish signal just days before the announcement. The signal came when the indicator was in a deeply oversold condition. This is an ideal trade setup, especially when traders know that there will be news within days.
Stochastics is not the only indicator that could be helpful. The next chart shows RSI at the bottom. The relative strength index, or RSI, is another popular momentum indicator. In this case, five days were used in the calculation rather than the default period of 14 days.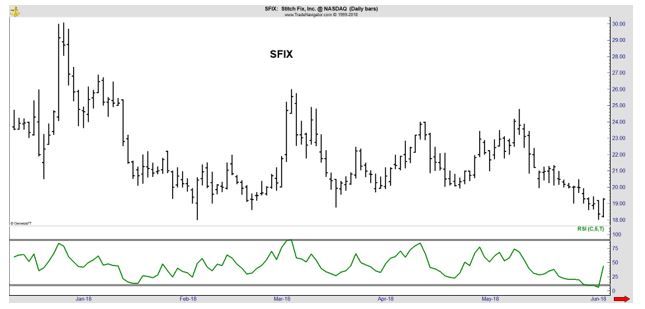 The indicator became deeply oversold and gave a buy signal at the same time the stochastics did.
A buy signal from a momentum indicator several days before earnings is an important signal to consider. Likewise, a sell signal before the announcement would indicate that it is time to avoid the stock, buy a put option or sell an existing position.
This example shows the importance and potential profitability of research.
However, research is time consuming. If you are uncomfortable doing your own research, there is a TradingTips.com trading service, Triple-Digit Returns, which uses a very specific system for choosing the right stocks to trade.
Triple-Digit Returns looks for companies that are misunderstood and potentially undervalued, lost darlings, mergers or spinoffs that could benefit share holders, or companies that show signs of strong interest by insiders who know the company best and see value.
This service provides a recommendation once a week. It could be used for trading or learning how to analyze stocks since each recommendation includes a detailed explanation of the company. To learn more, you can click here.
Special:
Urgent: Three 5G Stocks to Buy ASAP