Like most investors, one of your top goals has been to enjoy financial freedom at whatever age you choose. So, it stands to reason that your money should ideally generate above-market returns with below market risk.
Truth is — if you really want to become a better investor then you need to be looking at where the smart money is heading. You need to understand what is truly driving the markets and how you can take advantage of these moves as – and before – they hit the mainstream.
That's how the long-term wealth can be found.
In fact, we've uncovered seven stocks that should have a place in your portfolio immediately.
Hot Stock No. 1 – Inseego Corporation (INSG)
The 5G boom is already here.
Special:
The Time to Invest in 5G Is NOW!
And it could very well create a $12 .3 trillion opportunity.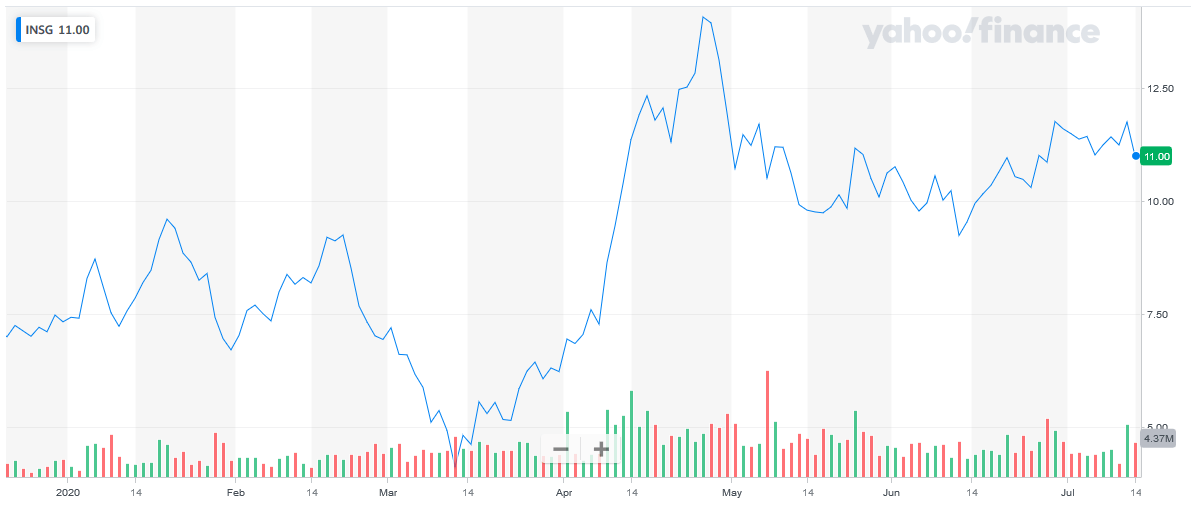 All as it disrupts major industries — from retail to education, transportation to entertainment, the Internet of Things, etc. One of the top stocks to consider on the story is Inseego.
"As we enter the next phase of 5G technology, we continue to work closely with scores of operators worldwide who are moving beyond tests and trials into full-scale commercial deployments towards mainstream adoption by both consumers and enterprise customers," says company Chairman and CEO, Dan Mondor.
Canaccord Genuity analysts also just reiterated a buy rating on the stock with a price target of $13, thanks to demand and supply for mobile broadband, and 5G demand. "As evidenced by the company's growing list of active 5G trials, Inseego's growing sales team continues to build an impressive pipeline of new opportunities."
In addition, analysts at Stifel just said INSG is an early leader in the 5G space, initiating coverage with a Buy rating with a $13 price target.
Hot Stock No. 2– Fiverr International Ltd. (FVRR)  
Fiverr operates an online marketplace worldwide. Its platform enables sellers to sell their services and buyers to buy them. The company's platform includes approximately 200 categories in 8 verticals, including graphic and design, digital marketing, writing and translation, video and animation, music and audio, programming and technology, business, and lifestyle. Its buyers include businesses of various sizes, as well as sellers comprise a group of freelancers and small businesses.
The stock has been in a solid uptrend since late September 2019.  All as it benefits from a gig economy.  At the moment, the U.S. is seeing tremendous growth in this gig economy, which includes independent contractors, on-call, and temporary workers.  The number of gig workers at U.S. businesses stood at 16% in 2019, according to the ADP Research Institute, as noted by CNBC. That's 15% higher from 2010.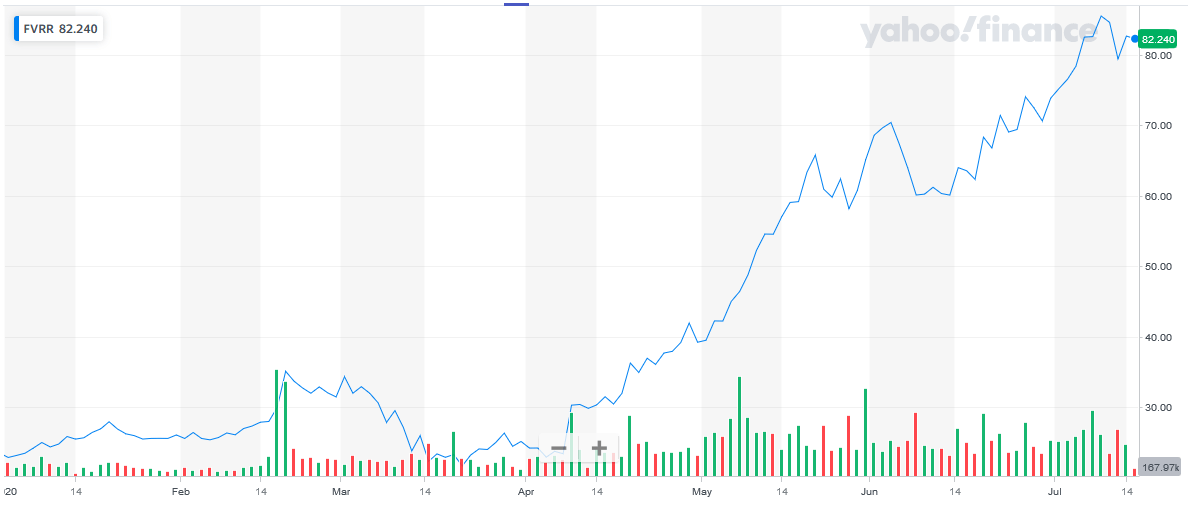 Such temporary help services could see the addition of 3.2 million jobs by 2025, an increase of nearly 8.5% from 2019.  "Gig employment will continue to grow in popularity as more companies choose to reduce fixed labor costs to stay nimble and workers gravitate toward flexible work experiences that fit their lifestyles," said Patrick Beharelle, CEO of TrueBlue.
Hot Stock No. 3 – Alpha Pro Tech (APT)
The U.S. is in desperate need for more face masks, creating a sizable catalyst for face mask companies like Alpha Pro Tech.
Political leaders from both sides of the aisle are urging Americans to wear protective coverings, which can reduce transmission by 85%.  With face mask demand outweighing supply, we could run into a massive problem.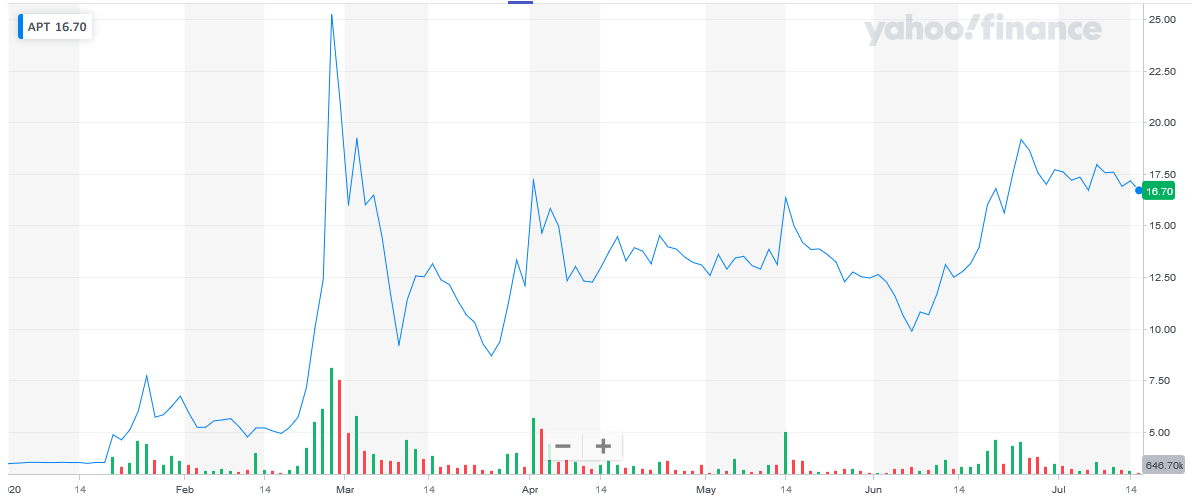 That could grow worse with Goldman Sachs noting that a "federal face mask mandate would not only cut the daily growth rate of new confirmed cases of Covid-19, but could also save the U.S. economy from taking a 5% GDP hit in lieu of additional lockdowns," as noted by CNBC.
Plus, states like New Jersey are now requiring people to wear masks outside under a new mandate signed by Gov. Phil Murphy.  "The mandate, which Murphy had been hinting at as the state transmission rate of the novel coronavirus has increased over the past few days, applies to all outdoor spaces but does allow for multiple exceptions," says North Jersey.
Atlanta just mandated face masks as well.
In fact, Mayor Keisha Lance Bottoms reportedly signed an order yesterday requiring the use of masks in the city.  This comes just days after Savannah mandated masks, as well.  Face masks will also be required indoors except at home in Dane County in Wisconsin, too.
Hot Stock No. 4 – NIO Inc. (NIO)
Once thought to be a dead stock, Nio Inc.(NIO) is exploding.
Just over the last few weeks, the stock has rocketed form a low of $3.08 to a recent high of $15 on improving sales. 
For June 2020, the company sold 3,740 EVs for the month, up 179% year over year.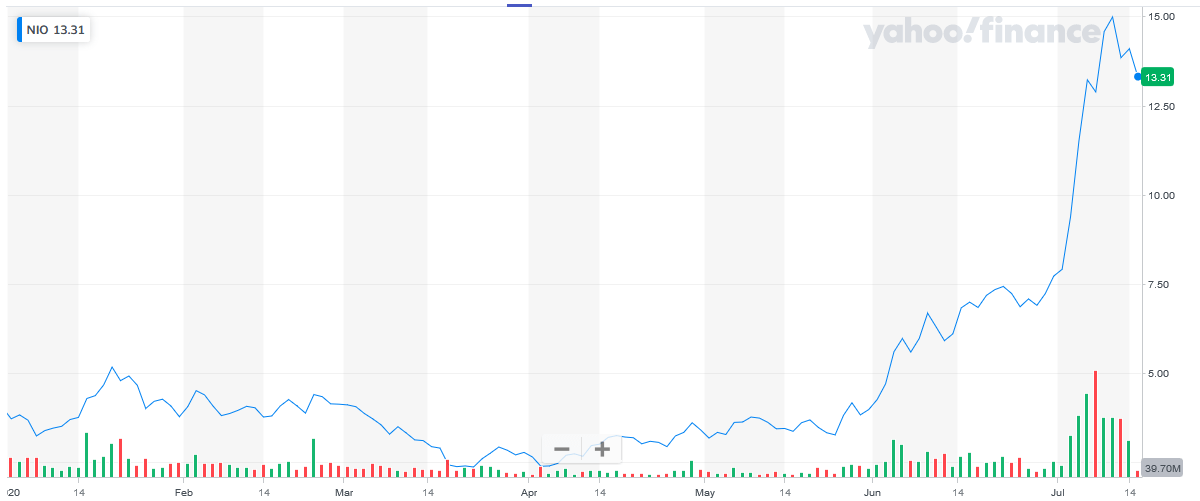 "In June, we achieved a historical high of monthly deliveries, contributing to our best quarterly performance. We appreciate the continuous support from our growing and loyal user community," William Bin Li, Nio's chairman and CEO, said.
In May 2020, the company delivered 3,436 vehicles.  That included the delivery of 2,685 ES6s and 751 ES8s.  "In May, we achieved record-high monthly deliveries in our history," William Li, founder, chairman and CEO of Nio.
In April 2020 delivery numbers were also better than expected.  In fact, deliveries were up to 3,155 for the month, a growth rate of 181% year over year, and 106% month over month.
Hot Stock No. 5 – Wisdom Tree Cloud Computing Fund (WCLD)
One of the best ways to trade the cloud software boom is with the WCLD ETF, which targets U.S. companies focused on cloud software and services. Some of its top holdings include Slack Technologies, Okta Inc., Zoom Video Communications, Fastly Inc., and Box Inc.
With the coronavirus spreading, investors are pouring money into cloud software stocks.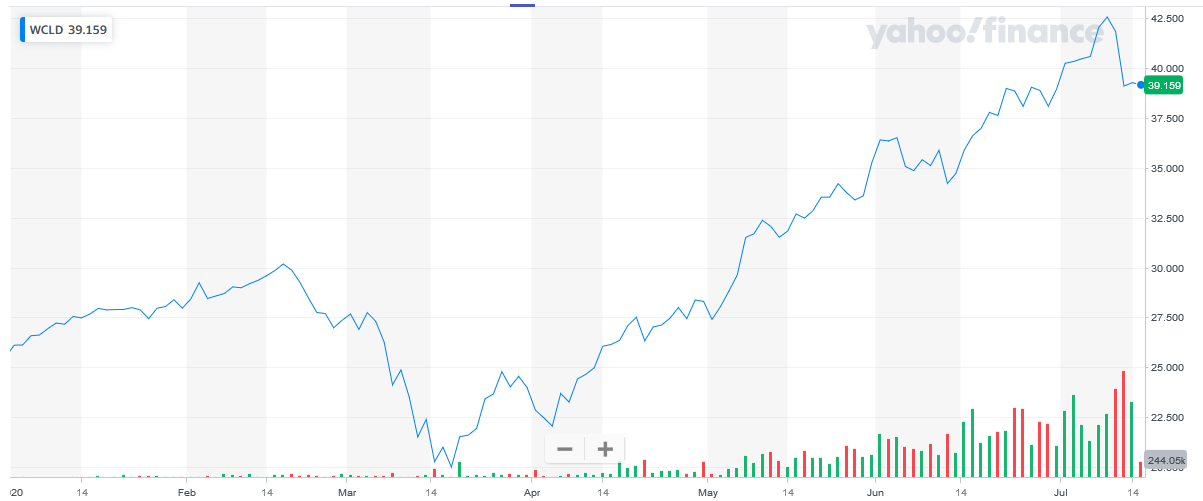 All as companies race towards infrastructure that can handle the demand from people working from home, playing at home, gaming at home, and schooling from home.  So much so, Microsoft for example just increased its network and data center capacity to help manage a surge in demand for its Azure and Office cloud services.
NVIDIA just announced it's working with Google on the Google Cloud platform to launch a cloud service powered by NVIDIA's A100 GPU.  Even stocks like Zoom, Okta, and Twilio are exploding to record highs on demand for cloud software.
"As we continue to move through Covid and assess the 'new normal', we continue to believe that an element of the WFH [work from home] environment that we have gotten used to, is here to stay," Evercore ISI analysts led by Kirk Materne said as quoted by CNBC.
Plus, "Even when the Covid-19 situation is behind us, we don't anticipate customers returning to paper or manual-based processes," CEO Dan Springer said. "Once they take their first digital transformation steps with us and they realize the time, cost, and customer experience benefits, they rarely go back."
Hot Stock No. 6 – Lithium Americas (LAC)
The lithium supply crunch is back. 
After pulling back, lithium is running into the same supply-demand problem all over again, and we're quickly nearing another massive supply crunch.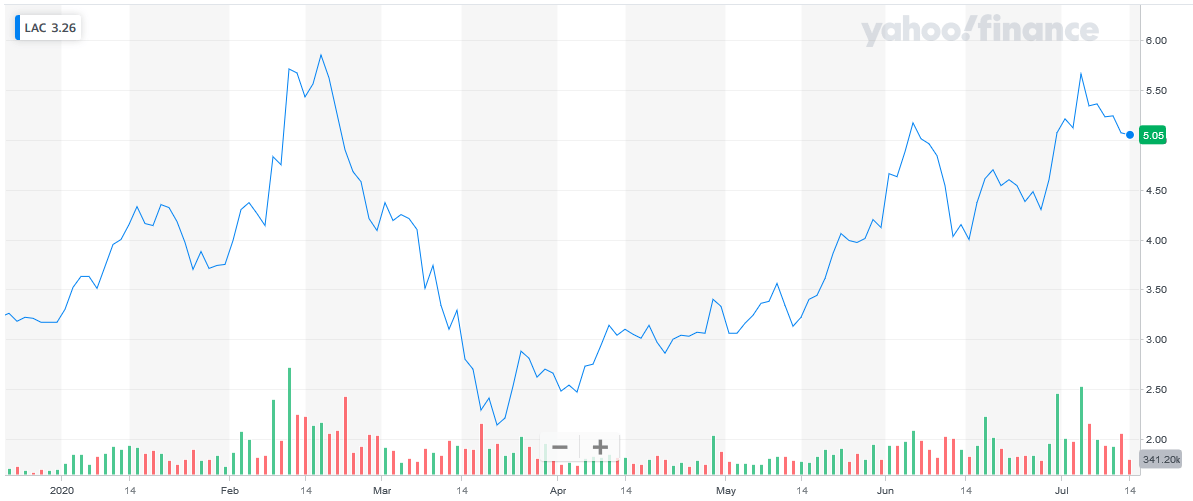 In fact, according to Reuters, "A new demand surge is already looming in the form of the multiple 'green stimulus' packages as governments try and kick-start locked-down economies. You don't have to be a market genius to see that another price boom is coming sooner or later as an under-powered supply chain has to catch up with the next demand surge."
All thanks to increasing demand for electric vehicle demand, which is growing much faster than anyone expected.  In fact, according to a new study from the Boston Consulting Group, by 2025, EVs could account for a third of all auto sales.  By 2030, EVs could surpass internal combustion engine vehicles with a market share of 51%.  That could lead to a sizable spike in demand with lithium used in EV batteries.  But for that to happen, the world needs far more lithium.
Hot Stock No. 7 – Zynga Inc. (ZNGA)
Zynga Inc. develops, markets, and operates social games as live services in the United States and internationally. The company's games are played on mobile platforms, such as Apple iOS and Google's Android operating systems, as well as on social networking sites, such as Facebook and Snapchat. It also provides advertising services comprising mobile advertisements, engagement advertisements and offers, and branded virtual items and sponsorships to advertising networks, agencies, and brokers; and licenses its own brands.
With big demand for mobile gaming, ZNGA is a top stock to watch.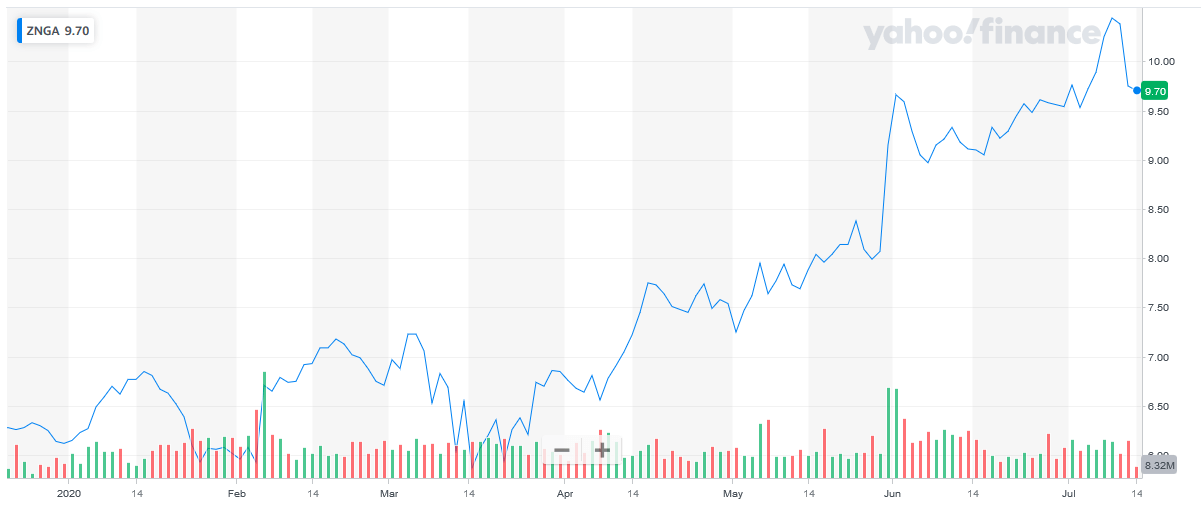 More than 2.7 billion global gamers are expected to spend nearly $160 billion on games just this year, according to market researcher Newzoo. Better, mobile gaming could generate up to $77.2 billion this year – 13.9% growth year over year.
In addition, in recent months, Zynga posted a first quarter loss of $103.9 million, or 11 cents a share, as compared with a year-earlier loss of $128.8 million, or 14 cents.  Revenue rocketed 52% higher to $403.8 million from $265.4 million year over year.  Analysts were only looking for
a loss of a penny a share on sales of $389 million.
"In Q2, we expect revenue of $400 million, up $94 million or 31% year-over-year, with bookings of $460 million, up $84 million or 22% year-over-year. Live services will drive our topline performance, led by our forever franchises, as well as the year-over-year additions of Merge Magic! and Game of Thrones Slots Casino," says CEO Frank Gibeau.