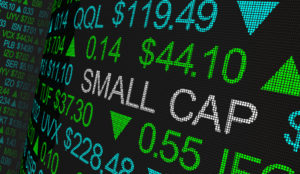 As you search the market for the next opportunity, it can be difficult to gauge where things will go. With so many stocks significantly off their March lows and seeing earnings deteriorate, it's possible that the market takes a breather here before establishing its next phase. In the next bull phase, there is a likelihood that small cap stocks begin to outperform. Also, it may not just be any small cap stock, it may be small cap value companies that have solid balance sheets.
Special:
Retire on these 3 stocks
What capitalization is easy to define, the value of a company can be very subjective. Should it be compared to a standard set of criteria against which all companies should be measured or is the definition more fluid. A more fluid approach might take into consideration its valuation compared to its peers, its history, future growth or current liquidity position. While there isn't just one approach that an investor can take, this list was compiled using a more fluid approach with multiple criteria.
Check out these lists of value companies as well.
Top 4 Undervalued S&P 500 Stocks to Have on your Radar
2 Junior Gold Miners Trading Below Book Value with Low Debt
The following list of seven companies are a group that should make your watchlist for the next phase of the market.
Small Cap Value Stock #1: Neogen Corporation (NASDAQ: NEOG)
Neogen manufactures a range of products and services dedicated to food and animal safety. Their food safety division works to detect harmful toxins, bacteria, allergens and levels of sanitation. The animal safety division is engaged in animal health products marketed to veterinarians and health product distributors.
A breakout above $75 on above average volume is an indication of a potential move to $95.
Small Cap Value Stock #2: Simmons First National Corporation (NASDAQ: SFNC)
Simmons is a financial holding company. The company provides financial services to individuals and businesses. They have over 150 offices located in communities throughout Arkansas, Kansas, Missouri, Tennessee, Colorado, Oklahoma, and Texas.
SFNC has near-term potential to test $20 and a bigger target of $22.50.
Small Cap Value Stock #3: Green Dot Corporation (NYSE: GDOT)
Green Dot is a financial technology company that provides reloadable prepaid debit cards and reloading service. They provide account services using the Green Dot-branded and affinity-branded reloadable cards, checking accounts, gift cards and debit cards. The company also does 1099 disbursements and tax refund processing. Its mobile banking is offered through it GoBank mobile checking account.
GDOT has a near-term target of $50.
Small Cap Value Stock #4: Pacific Premier Bancorp, Inc. (NASDAQ: PPBI)
Pacific is bank holding company that has a subsidiary that operates as Pacific Premier Bank, which is chartered in California. The company is primarily a deposit institution for small and medium size businesses and consumers. The company leverages those deposits to engage in commercial loans and various types of commercial real estate loans.
A close above $22.75 would indicate near-term potential to retest its $26.75 resistance.
Small Cap Value Stock #5: Korn Ferry  (NYSE: KFY)
Korn Ferry is engaged in talent management solutions, including executive search on a retained basis, recruitment for non-executives, outsourcing and consulting services. Also, the company operates in 52 countries around the world. With such an upheaval in employment and management, it appears to be well positioned to work with companies on management structure and matching the right candidates.
KFY has a near-term price target of $35 but has potential to retest the January trading range near $40.
Small Cap Value Stock #6: Hub Group Inc (NASDAQ: HUBG)
Hub group is a freight transportation management company. They offer intermodal, truck brokerage and logistics services. Its operations extend throughout the United States, Canada and Mexico. As the economy continues to open, it places logistics in a better position moving forward. The company announces earnings on June 29, 2020 after the market closes.
HUBG has near-term potential to the resistance near $51.20 with $60 in sights on a breakout above that level.
Small Cap Value Stock #7: Big Lots, Inc. (NYSE: BIG)
Big Lots is a community retailer that operates nearly 1,500 stores in 47 states. The store offers a range of products from food and consumables to home goods and toys. the inclusion of mattresses and other goods to their product line allowed them to remain open as an "essential" business.
BIG has near-term a potential near-term target price of $44. A break of that level would be an indication of the potential to retest its 2018 high near $65.
Special:
Collect 5 dividend checks per week