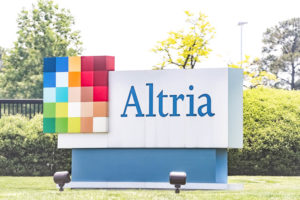 It can be startling when the volatility of the market rears its ugly head when it's been gone for a while. This past week may be a reminder that it's not always an up day and the down days can see gains diminish quickly. As stocks look to find their footing, it will be interesting to see which companies begin to lead. On Wednesday, the increased bullish option activity in Altria Group Inc (NYSE: MO) may be an indication that traders are to take a break.
Altria is a consumer staples stock that manufactures and sells cigarettes, smokeless products and wine. The company currently pays a 7.87% forward dividend yield and has a 10.6% 5-year dividend growth rate. As you consider the current market volatility, it may be a wake-up call to look for companies that could be more stable in turbulent times. With a high dividend yield, that's what Altria offers.
It appears that Wednesday's activity seems to be indicating an expectation that money may migrate to Altria as well. While the call volume was right around average, there were some bullish trades of note that have happened in the past week. One trade that stood out on Wednesday was the purchase of 2,153 contracts in one print on the 23 OCT 20 $46 call option for $0.55. That contract finished with over 5,000 contracts and the surrounding strike saw similar bullish interest.
Action to Take: Wednesday's activity reflects an expectation for Altria to move north of $46 in the next 44 trading days.
Speculators may want to consider buying a 23 OCT 20 44.50/45.50 long call vertical for around $0.35 or less.