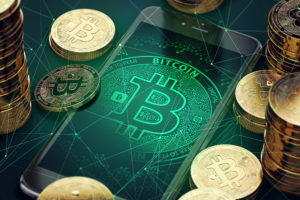 Even with increased volatility, most assets are near all-time highs. That includes the Dow and S&P 500, and the Nasdaq has nearly recovered from its brief correction. One other area is Bitcoin, which saw a surge in demand just as new stimulus checks started to hit bank accounts.
The cryptocurrency surged as high as $61,500 in weekend trading before slipping down during regular market hours. But traders are looking at this milestone and other trends that could fuel another rally.
For instance, unlike other moves in Bitcoin, this past year has seen rising institutional interest. That includes tech companies looking to keep the asset on their books, as well as financial companies looking to increase access for their clients.
Meanwhile, cryptocurrency miners aren't selling their holdings as fast as they can earn them, a sign that they too expect higher prices. In short, there's a supply crunch going on, and that's likely going to drive Bitcoin prices higher.
Action to take: With an increasing number of ways to hold and trade Bitcoin, there are more options than ever before. Investors interested in the mining side of the space may consider Riot Blockchain (RIOT). That's a software company developing technologies utilizing blockchain, and also mining cryptocurrency.
Shares are slightly off their highs, but look poised to move higher in the coming months as the new supply of Bitcoin continues to see strong demand.
For traders, the June $75 calls, last trading for about $20.90, look like an attractive bet for a surge higher.