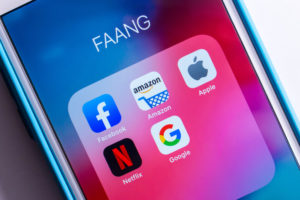 Do you remember the Nifty Fifty? These were the original "Blue Chip" buy and hold stocks in the 1960's and 1970's. That strategy worked until the late 1970's and 1980's. The FAANGs or FAAMGs are the new Nifty Fifty at least in terms of the breadth of ownership. The question is when will these names be replaced by a new generation of growth companies and who will they be. Goldman Sachs attempted to provide that answer with their own "Future Five."
In a recent report, Goldman Sachs David Kostin seeks to find companies that have similar characteristics to the FAAMGs. These five companies comprise over 23% of the S&P 500 market cap and over 40% of the Nasdaq 100 market cap. This type of concentration has never been seen before in the financial markets.
The path that AAPL, MSFT, AMZN, FB, and GOOG took was different by virtue of their businesses. However, what was similar about these companies that could be replicated for identifying the next companies to take over leadership.
The Time to Invest in 5G Is NOW

Happy Woman Holding Phone AT&T has just become the first carrier to offer 5G coverage.

Sprint's 5G network is live in Phoenix, New York City, Washington, D.C., and Los Angeles.

T-Mobile has flipped the 5G switch in six cities...

And Verizon has launched its 5G network in 13 cities.

Nearly a decade in the making, 5G is finally here...

And just ONE stock is your No. 1 chance to profit from the 5G revolution.
The top defining characteristic was rapid sales growth that was maintained even during lower growth periods of the last cycle. Fore example, since 2009, the S&P 500 has posted a revenue CAGR of 4% compared to 20% CAGR for the FAAMGs. This is ability to grow sales during difficult times has only been highlighted even more during the pandemic.
Here are Gold man Sachs "future five" that represent companies that follow a "Rule of Ten." That means they have grown their revenues 10% a year in the past two years and are projected to grow at 10% a year for the next two years. They also represent a key category for expected growth in the future.
Future Five Stock #1: Intuitive Surgical, Inc (NASDAQ: ISRG)
Intuitive falls into the "computerization of healthcare" category that will drive growth in the future. The category represents companies that will bring technology to the healthcare industry well beyond its current role.
ISRG is a company that manufactures and sells their Da Vinci surgical system that provides a console for doctors to perform surgeries for various procedures, including cardiothoracic, head and neck, urological and others. The idea of incorporating robotics and AI when performing surgical procedures is expected to be a huge trend in healthcare and COVID will only accelerate that trend to cut costs.
The company currently has a 3-year revenue growth rate of 17.7% and is expected to grow their revenue by 19.9% in 2021.
Future Five Stock #2: Autodesk, Inc (NASDAQ: ADSK)
Autodesk falls into the "digital transformation of business" category that will allow software to permeate all aspects of the life of a business.
ADSK is a software design and services company that offers AutoCAD for professional design, drafting, detailing, and visualization software businesses. The company also offers industry collections of software for other industries that is designed to accelerate the design process for areas like contractors and even media and entertainment.
The company currently has a 3-year revenue growth rate of 17.3% and is expected to grow their revenue by 14.4% in 2021 and 17.7% in 2022.
Future Five Stock #3: ServiceNow Inc (NYSE: NOW)
ServiceNow falls into the "workflow automation" category that will allow software automation to optimize the workplace tasks. This means using software for HR, Payroll processing, IT and expense management.
NOW provides enterprise-level computing solutions for IT management, customer service, human resources, security operations, integrated risk management and other departments. The company's products service a number of industries including government, financial services, healthcare, telecommunications, manufacturing, IT services and many other areas.
The company currently has a 3-year revenue growth rate of 17.3% and is expected to grow their revenue by 27.5% in 2021 and 24.4% in 2022.
Future Five Stock #4: Vertex Pharmaceuticals Incorporated (NASDAQ: VRTX)
Vertex Pharmaceuticals falls into the "advancements in life sciences" category that seeks to discover treatments and cures for medical conditions that impact a large percentage of the population. With an aging population globally, it makes sense that this is a growth area.
VRTX is a biotech company that develops therapies for cystic fibrosis, and they market a number of current treatments and has a pipeline that they are developing. However, the company maintains collaborations with CRISPR, Moderna, Genomics, Merk and many other biotech companies.
The company currently has a 3-year revenue growth rate of 31.9 and is expected to grow their revenue by 49.4% in 2021 and 13.8% in 2022.
Future Five Stock #5: Paypal Holdings Inc (NASDAQ: PYPL)
Paypal falls into the "e-commerce and digital payments" category that seeks to expedite the shift from in-person to online shopping and the use of digital payments. With store closures and the restricted use of cash, that trend was recently accelerated by regulators.
Paypal is a global company that operates a technology platform for processing digital and mobile payments for consumers and merchants.
The company currently has a 3-year revenue growth rate of 18.9% and is expected to grow their revenue by 20.4% in 2020 and 19.3% in 2021.