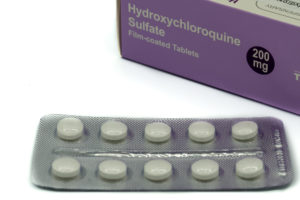 On Saturday, President Trump continued to tout a potential treatment to combat COVID-19. He said, "HYDROXYCHLOROQUINE & AZITHROMYCIN, taken together, have a real chance to be one of the biggest game changers in the history of medicine. The FDA has moved mountains – Thank You!" That statement followed statements he made earlier in the week that this drug was being tested as a treatment for COVID-19.
Hydroxychloroquine (HCQ)  is a drug that is used for prevention and treatment of malaria infections. It is also commonly prescribed for autoimmune diseases like lupus and rheumatoid arthritis to help with inflammation. The use of chloroquine was officially recognized for treatment of malaria in the 1940's. In the 1950's, physicians began experimenting with its use for the treatment of lupus and then rheumatoid arthritis. That seems like a long time ago, but the use of this active ingredient predates that by over 200 years.
It was in 1638 that the wife of the Viceroy of Peru, Countess Cinchona, was provided an herbal remedy by an Incan herbalist to treat her malaria. The remedy was from the bark of a tree, and it was so effective that when the Viceroy returned to Spain, they took large supplies of the powder with them. It wasn't until the twentieth century that the active substance quinine was isolated.
It was discovered in the 1940's that chloroquine had certain toxicities. In 1945, a modification was made using hydroxylation that led to the development of hydroxychloroquine that is used today. While it's not exactly known what makes the drug work.
Recently, there was a study conducted in Marseille, France that tested its use as a preventive measure for contracting COVID-19. The results haven't been published yet, but some preliminary data has been released. The test group included up to 25 COVID-19 positive patients aged 12 to 64 years old. Six days following treatment, 25% of patients that were treated with HCQ were positive versus 90% of those who weren't.
As you consider companies that are currently or are planning to produce the drug, it's important to consider whether it's likely to be adopted more widely. The CDC website suggests that HCQ along with azithromycin has been used in the U.S. and other countries to treat hospitalized patients, but on a limited basis. They referenced a small study that was conducted that concluded that this treatment reduced the detection of the virus' RNA in the upper respiratory tract compared to a control group.
Let's take a closer look at three companies that can produce this medication.
HCQ Stock #1: Teva Pharmaceuticals Industries Ltd (TEVA)
Teva is a generic pharmaceutical company located in Israel. Last Thursday, the company's shares were up as much as 13% premarket following news Thursday night that it would be donating 6 million doses of hydroxychloroquine sulfate tablets to the U.S. this month.
While there is a cost associated with donating the drugs to the U.S. there is significant potential that may be realized if the drug is accepted as a more official treatment. The potential broad use of HCQ would allow for a near-term move to retest its February highs near $14.
HCQ Stock #2: Sanofi ADR (SNY)
SNY is a Paris company that produces a number of brand name and generic drug therapies that are distributed worldwide. Drugs like Allegra are pretty commonly known and used in the U.S., but they manufacture a broad range of drugs that are commonly used. One medication is Plaquenil, which is a a brand name medication of hydroxychloroquine sulfate.
SNY has recently be holding on to its $38 support and bounced off of support on Tuesday. The near-term target would be a retest of its previous resistance near $51.
HCQ Stock #3: Mylan NV (MYL)
MYL is a UK company that produces generic, brand-named, and over-the-counter medications distributed in North America, Europe, and other parts of the world. In response to the resurgence in interest for HCQ, they have restarted production of the tablets in its West Virginia manufacturing facility.
MYL has been basing for the past couple of weeks near its $14 support, the near-term potential is a retest of the February high near $23.