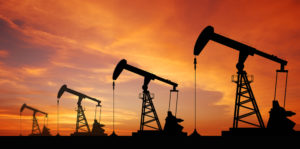 Two insiders make a multi-million dollar buy in the oil giant.

Two corporate insiders have just bought in over $2 million in shares of Occidental Petroleum (OXY).
On June 10, CEO Vicki Hollub bought 37,460 shares, a commitment of over $1.8 million. SVP Marcia Backus bought 10,000 shares, putting down over $480,000. The buys come after shares have slid from $54 in the past month to $47 in recent days.
Oil prices have been weak, particularly for this time of year when the summer driving season boosts demand for gasoline. As a result of this seasonal aberration, energy stocks have been moving downwards as well.
With a dividend yield now north of 6 percent, and with the company trading at just nine times earnings, however, insiders are betting that the drop is overdone and that higher prices will play out over the next few months.
Action to take: With a big dividend, shares look like an attractive buy now, while waiting for a share price recovery. As a global integrated oil company, this could even become a permanent long-term holding for any portfolio.
Speculators may want to look at a January 2020 $50 call, which could give a larger percentage gain on the order of 40 or 50 percent in the next few weeks, particularly if shares spike higher.