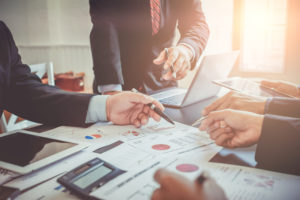 Christopher Swift, the Chairman and CEO of The Hartford Financial Services Group (HIG), picked up another $251,000 worth of shares recently. The buy added 6,975 shares in total, or a 2.4 percent increase in the CEO's holdings.
Insider data at the company shows a mix of buys and sells. Most interestingly, however, the same CEO was a big seller of shares a year ago, when they traded 40 percent higher.
Although shares are down substantially over the past year, revenues are flat and earnings have actually risen. The company remains profitable, and looks undervalued in terms of earnings, sales, and book value as a result. The company's insurance operations and services like employer plans have provided steady diversity amid 2020's challenges compared to a bank.
Action to take: The January 2021 $40 calls, trading for around $1.95, have a good chance of moving in-the-money if the company continues with strong operating results and value-seeking shareholders continue to move to the shares.
The option has the potential to move in-the-money over the next few months, but traders should look for the next upswing in shares as an opportunity to take some quick profits instead. That avoids potential losses as the option loses time premium as it nears expiration.
Special:
The Time to Invest in 5G Is NOW!