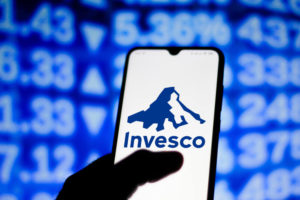 For the past three months, the share price of Invesco Ltd (NYSE: IVZ) has been trading in a range between $10 and $11.60. The price just made another run at the resistance last week as volume surged but faded from the high yesterday. As the price was beginning its run, the president and CEO Martin Flanagan and another insider began buying shares. The insider buys may be an indication that they expect the price to move higher.
Invesco is a $5.23 billion investment management company. With 459.17 million shares outstanding, institutions own 48.58% of the shares. Insiders own very little of the shares directly with ownership of only 1.56% of the shares. The indication of such low direct ownership is a lack of alignment with the company's objectives. However, insiders typically buy for only one reason and that is an expectation that the price will move higher.
In the past week, there's been 304,007 shares bought by insiders for a total value of $3.1 million. The shares were made in two separate purchases by Director Sarah Beshar and the President and CEO Martin Flanagan. Most all the shares at 294,507 were purchased by Mr. Flanagan. The acquisition leaves him with over 2.4 million shares of the company. The purchases last week were the highest insider trading volume in the past three years.
Action to Take: While the price fell from the high, the expectation is a break of the $11.60 resistance and move to $14. An entry trigger could be a break above the $11.60 resistance or a bounce off of the $10 support.