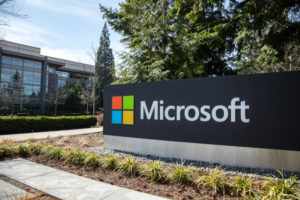 With the month of September only half-way through, Microsoft Corporation (NASDAQ: MSFT) is on pace for a big month of insider selling. Looking back over the past three years, Microsoft is pacing to have its biggest month in terms of sale transactions and selling volume by insiders. The selling comes at an interesting time as the tech rally fades and investors are left wondering if there is a bigger pull-back in store.
Technology was the second-worst performing S&P 500 sector lest week with a 4.3% weekly decline. It was the biggest pullback since March and the only the second time since March the sector has posted declines in two consecutive weeks.
Some of the reason for the ramp up and the selling was revealed on September 4. According to the Financial Times, Japan's Softbank was the "Nasdaq Whale" that had purchased billions of dollars in call options on tech names. As that trade started to get unwound, the bullishness in tech began to wane.
With more than half of the month remaining, Microsoft has seen the fifth-highest number of shares sold by insiders and has posted the second-highest month in terms of selling transactions in the past four years. This selling activity is dovetailing with the recent volatility, the revelation of the Nasdaq Whale and a very extreme overbought territory for the share price.
Action to Take: Microsoft isn't necessarily a short at the current price, but this knowledge should prompt and indication to consider some profit-taking by retail investors.
Option traders wanting to take a low risk high reward trade on the chance of a significant correction by the end of the year may want to consider buying an OTM long put vertical. The 18 DEC 20 180/175 can be bought for around $1.25.