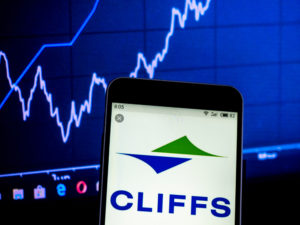 President Trump has been talking about infrastructure spending for a long time and he has been consistently looking for at least a $1 trillion package. On July 1, the House of Representatives passed a bill for $1.5 trillion that is probably filled full of goodies but will likely be hammered out with a Senate version at some point. No matter what your personal feelings are about the prospect of spending that amount of money on infrastructure, it will be bullish for some companies that will be planning, supplying or executing the plans.
One company that will be at the center of any infrastructure spending is Cleveland-Cliffs Inc (NYSE: CLF). The company is a mining and natural resource company that supplies iron ore pellets to the North American steel industry.
The option market is eyeing the possibilities for these types of companies based on the surge in option volume on Friday. While there weren't any large orders filled in one print, there was a lot of activity. The call option volume was over 28 times the average with 186,485 contracts traded on Friday. With over 80,000 contracts traded against an open interest of 487, the 31 JUL 20 $6 strike price received most of the interest.
Here are links to our latest unusual option activity reports.
The Options Market Just Put Up an Inflation Signal: iShares Barclays TIPS Bond ETF (NYSEARCA: TIP)
Special:
The Time to Invest in 5G Is NOW!
Job Posting has Option Activity Exploding: Twitter Inc Stock (NYSE: TWTR)
Action to Take: CLF broke out of a falling wedge on substantial volume on Friday. The potential target based on the pattern is a retest of the June 8 high of $7.09.
Speculators may look for a much larger move based on a potential infrastructure spending bill. The 16 OCT 20 $5 call option is trading for around $1.40 and has a 0.70 delta. This is a good proxy for the stock and can be rolled to the $6 strike to reduce risk if the stock price rises $1.