There are a lot of ways to make money in the market. But even if you find that rare company that can move ten-fold and provide one of the best profits of your lifetime, that will take time.Most investors get impatient.
Trading Tips' Andrew Packer explains why you should be looking at blue-chip bargains.
SPONSORED CONTENT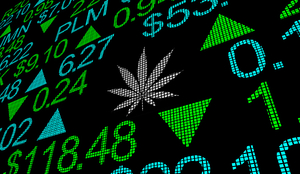 Have you found yourself watching instead of profiting from the cannabis industry?
Well, it's time to get serious.
The U.S. cannabis market is set to become a $1 trillion dollar industry in less than a decade. Meaning right now, you are missing out on what could be the most historic, moneymaking era on Wall Street.
This market is still in its infancy, but it's poised for RAPID growth with the potential to turn small, pennies-per-share companies today into billion-dollar goliaths – seemingly overnight.
As leading pot players continue to chew away at legal barriers, now is the perfect time to go "all in" on this red-hot industry.
Maybe you've considered investing before, but thought it was out of reach… a rich man's game with a lot of complex steps to get started.
But the real truth is, ANYONE can break into the cannabis market and start making cold, hard cash.
You don't…
Need to know anything about cannabis.
Need to be a pro-level investor.
Need a lot of cash to get started.
You just need to follow three simple steps to get started…
3 Simple Steps to Buy Marijuana Stocks Today
Step 1: Open a Free Online Brokerage Account
(Already have an account? We've identified the 3 best cannabis stocks to buy right now)
If you've never bought stocks before, the first thing you need to do is open an online brokerage account. Don't worry. They're free to open and simple to use.
This account lets you buy and sell marijuana stocks easily.
Some brokerages, like Robinhood.com, allow you to purchase many, but not all marijuana stocks with no fees.
Other online brokerages, like TD Ameritrade.com and etrade.com, let you buy every single marijuana company, but charge a small fee when you buy and sell shares.
Step 2: Find Your First Marijuana Stock to Invest In
Once your account is open, the next step is figuring out what cannabis stock to invest in first.
With over 144 different public companies to invest in, this industry is BOOMING with stocks with big-cash potential.
But that doesn't mean that all stocks are created equal. For every under-the-radar winner, there are three penny stock scams just waiting to take advantage of this exciting market.
That's why we suggest attending an online Cannabis Investor's Masterclass to help get you started.
This beginner's guide makes uncovering winning cannabis stocks a whole lot easier. Now, you don't have to watch a Cannabis Investor's Masterclass to start investing stocks. But chances are you'll be blindly walking into the market, throwing darts with your eyes closed hoping to hit a bullseye if you don't.
Step 3: Start Reaping the Rewards of a Marijuana Stock Investor
Once you've got the ticker symbol in hand, it's time to take action!
Simply enter your ticker, and how many shares you want to purchase, into your preferred platform and you are off to the races.
But your journey doesn't stop there.
Before you can start reaping rewards of being a marijuana stock investor, you have to build a smart portfolio.
Remember, there are over 100 different cannabis companies trading in the market today. With dozens more coming online every year.
But every pot stock out there will NOT be a home run.
For every success story, plenty fizzle out… robbing investors of thousands, sometimes even millions of dollars.
That's why the most important step is to have an industry expert on your side willing and able to set the record straight.
To be there with you every step of the way so you can conquer this soon-to-be trillion-dollar industry together.
Recently, one of the world's most successful cannabis investors partnered with the National Institute for Cannabis Investors to offer just that.
After helping investors make $2.2 billion in less than two years, cannabis venture capitalist and IPO expert, Danny Brody is distilling his insider secrets into a free online Masterclass for the first time ever.
Tailored for students of all skill levels, this industry titan teaches the same unconventional techniques he used to create his own cannabis empire.
Invest just a few minutes of your time, and you'll learn:
How to stop sitting on the sidelines and make REAL money in cannabis…
The common cannabis mistakes traders make and how to reduce them…
And the three cannabis stocks currently trading under $10 you need to target today.
Just click the button below to get started.