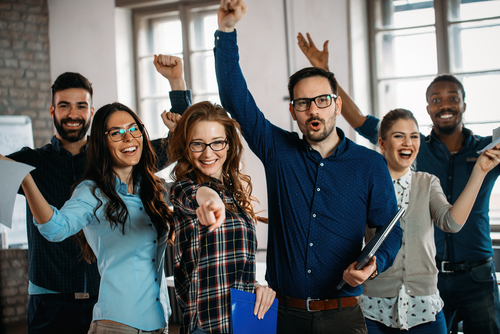 These firms show their employees the love—and deliver great results to shareholders.
There are many ways to value potential investment opportunities. A more off-the-radar approach is to look for companies that get high ratings from employees.
The logic is simple. When employees are happy, they're likely to be more productive. Happy work environments are conducive to open communication about policies or projects that are (or aren't) working. It makes hiring and retaining top talent easier, and that factor can have a significant impact on a company's bottom line.
Bargain in Today's Market (SHOCKING)

This "World's Most Admired" company's stock would be a bargain at $50...

Today it's just $2!

Plus... a key May 12 announcement could send it ROCKETING skyward...
That's why one way to screen for potential investments may be to look at publicly-traded companies that are highly regarded by the folks that work there. We've identified the top three:
Employee Pick #1: Cigna (CI)
A major player in the health service organization space, Cigna (CI) receives top ratings for its employees.
The company offers the usual suite of products for employees—from health insurance and paid-time-off, but the company also has over 3,000 work-at-home jobs for nurses and claims workers, providing some much-needed 21st century flexibility. The company also cites that many of its traditional roles also have some opportunity to work from home a few days per week, a policy that gives employees the flexibility they need to be happy.
With most things healthcare out of favor with the market right now, however, shares of the company have slid 17 percent in the past year.
But with a large contingent of happy employees in a sector that may have some changes but isn't fundamentally going away, it's no surprise that the company remains profitable and trades at just 9 times forward earnings. And with revenue up over 238 percent in the recent quarter and earnings up over 75 percent, there's no sign of any economic slowdown here… and eventually shares will follow them higher.
Shares are a buy up to $180.00. Traders may want to consider the January 2021 $220 call options to bet on a move higher in the space. With a prior 52-week high of $226, this old price point is an achievable goal in the next 14 months. The $220 call options trade for around $10.50, or $1,050 per contract, far less than the purchase price of 100 shares.
Employee Pick #2: Intel (INTC)
With a suite of berks that includes support for advanced education, free flu shots, discounts on pet foods, as well as on-site car washes and dry cleaning services, it's no wonder employees at Intel (INTC) are generally happy.
That may also explain why the technology giant continues to innovate—it creates a workplace for employees where they can focus on their jobs without the distractions of everyday life—without going as overboard as some small tech startups do once they get some capital.
That may also explain why the tech giant has beaten the S&P 500 Index by 10 percent this year. And despite the spending on employee perks, the company has profit margins of 27 percent, a healthy amount for a company of Intel's size.
With a balance sheet light on debt overall, this is one company likely to continue heading higher than the overall market. Investors should consider starting a small stake here, and up to $57.50, with an eye towards buying more on the next drop in the tech names. Speculators could also consider the January 2021 $60 call, which can provide leveraged upside for just $425.
Employee Pick #3: Salesforce (CRM)
With 24-hour travel assistance, free shuttles to the company's headquarters, various discounts on spa and fitness services, educational reimbursement, and help with refinancing student debt, Salesforce (CRM) knows how to keep its employees happy, making another top name on the list.
One of the leaders of the software-as-a-service model, the company has done a tremendous job of adapting to today's digital economy with cloud services and platforms. Over the past 8 years, it's managed to grow revenue over 20 percent annually—a challenge for all but the best companies. It also makes the company look less pricey than its PE ratio of 128 would suggest.
With over $3.5 billion cash on hand, the company isn't going away anytime soon, even if cloud software companies have traded a bit weakly lately. As with other tech and growth names right now, they're a bit out of favor with the market while trade issues remain unresolved—but that will change, in time.
Investors should look at buying shares up to $160, slightly below the company's high of $167. Speculators may want to consider the June 2020 $190 calls, which trade for $330 per contract, but could double or triple on a move higher in shares in the next few months.