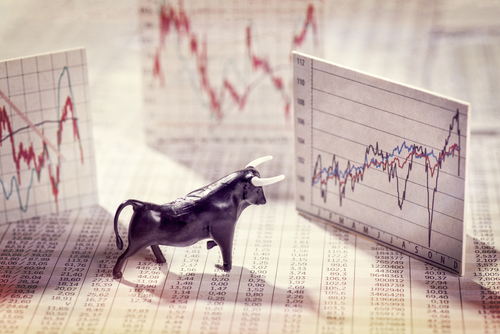 The market is undervaluing these companies following their earnings beat.
Nearly 25 percent of the companies in the S&P 500 will report earnings this week. But many companies have already reported—and so far, this earnings season has been great.
For all the fears of an economic slowdown, for all the fears of a trade war—most companies are just doing what they do best, offering products and services that remain in demand. It's no surprise that most companies can beat expectations when fear has driven those expectations down.
The Time to Invest in 5G Is NOW

Happy Woman Holding Phone AT&T has just become the first carrier to offer 5G coverage.

Sprint's 5G network is live in Phoenix, New York City, Washington, D.C., and Los Angeles.

T-Mobile has flipped the 5G switch in six cities...

And Verizon has launched its 5G network in 13 cities.

Nearly a decade in the making, 5G is finally here...

And just ONE stock is your No. 1 chance to profit from the 5G revolution.
Of the companies that have already beaten earnings this quarter, we've found two worth buying now… and a third that reports at the end of the month. These are three companies that, despite having beat on earnings and expectations, are still a bit out of favor with the market. That's where the value is, so it's exactly where we want to be as investors.
Company #1: Schlumberger (SLB)
A giant in the world of oil and natural gas drilling and production equipment, Schlumberger (SLB) shares have slumped in the past year, down 43 percent compared to an 8 percent rally in the S&P 500 index.
That's in spite of the company either meeting or beating its earnings expectations in the past year, including a three-cent beat in the third quarter. With shares trading at 19 times forward earnings, they're not the cheapest stock out there, but this industry-leading giant will continue to profit whether oil prices go higher or lower.
With the large number of companies in the oil and natural gas space so leveraged that they need to produce at any cost or go under, Schlumberger is set up to profit from the industry no matter what happens.
Thanks to the drop in share price, the company's $2 annual dividend works out to a 6.5 percent yield right now. While that could end up getting cut on a big drop in earnings, the company's double-digit earnings growth, in spite of the challenging market for oil, shows that whether there's a boom or bust in the commodity space, the companies that supply and service that space end up making the most consistent profits.
Shares of Schlumberger are a buy up to $35.00.
Company #2: Genuine Parts Company (GPC)
An international distributor of automotive equipment, parts, and materials, a company like Genuine Parts Company (GPC) should really be slumping if the trade war is as bad as news headlines make it out to be. A slowing economy tends to hit the auto industry hard.
But it isn't.
This is another company that's done fine on earnings, beating expectations by 3 cents per share in the third quarter. Even when the company has missed expectations in the past year, it's made money. Shares of Genuine Parts Company have traded flat in the past year, and trade at 17 times forward earnings—a bit of a discount to the market, but still about 15 percent below the company's old 52-week high.
With a recent bump in the dividend from $3.01 to $3.05, shares now yield just over 3 percent. The company is a great bet on global trade remaining robust, new trade impediments or not. Shares are a buy up to $105.00.
Bonus Company #3 Likely to Beat Earnings: Altria Group (MO)
The tobacco companies have gotten plenty of market attention in the past year. With a long-term decline in tobacco use, many have seen the companies as a dead-end investment until they start aggressively investing in the faster-growing marijuana space, or with more vaping products. Yet companies that have done so have faced significant challenges this year as tainted vaping products have led to a number of health concerns and even a few deaths.
Enter Altria Group (MO). The tobacco firm, which owns the top-selling brands in the United States, has had significant challenges related to the stake it purchased last year in e-cigarette manufacturer Juul. That's led to a 27 percent slump in shares in the past year, which has pushed the company's dividend up to 7.7 percent.
Shares of the company missed in the last two quarters as a result, and while the company won't report earnings until October 31st, the selloff has been overdone and shares are already starting to trend up.
Other competitors in the space like Philip Morris International have already reported earnings and surprised to the upside. Investors who buy Altria now should benefit from this trend—and an earnings beat now would likely send shares up immediately. Consider buying now, while they're still under $47.50.