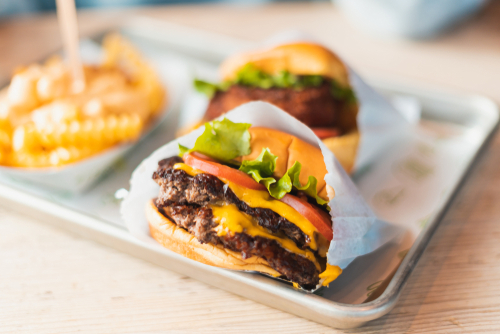 Bet on moderate decline by January.
Shares of Shake Shack (SHAK) have been volatile over the years. At least one trader is betting on a big move in shares again—with a decline in mind.
On Tuesday, over 934 contracts traded on the January 2020 $65.00 put options. With shares trading around $74.50, that's a bet that shares will decline over 13 percent between now and January.
Shake Shack currently operates 208 restaurants which it calls Shacks. The company sells burgers, hot dogs, fries, shakes, and related products. Share trade at a whopping 158 times earnings, and a still-outrageous 100 times forward earnings. The company has seen growing revenue growth, but a drop in earnings growth, indicating that its costs are rising.
Action to take: With only 208 locations and a market cap of $2.75 billion, each Shack has a valuation over $13.2 million dollars—far higher than fast-food burger chains by multiples, and even by other high-end burger chains that have risen in recent years.
With a valuation like that, investors may want to get in on this trade. The option can profit by a far larger percentage drop in shares, and shares can fall for valuation concerns as well as a drop in the overall market.