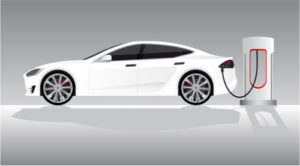 Big bet that automaker's shares will decline this month.

At least one trader is betting on a modest decline in Tesla Motors (TSLA) between now and the end of the month.
On Tuesday, over 7,500 contracts traded on a June 28th, 2019 $210 put option for Tesla. With a prior open interest of 286, this represents a twenty-six-fold surge in volume. Shares currently trade around $217, implying a downside of $7, or about three percent, for these put options to move in-the-money before expiration.
This large bet is occurring as the company has its annual meeting. Shares of Tesla are exceptionally volatile and have a popular following. Nevertheless, shares are still down nearly 50 percent from their peak in the past year as production delays and antics by Tesla's CEO, Elon Musk, continue to distract from the business of manufacturing electric cars.
Action to take: Tesla shares continue to face some fundamental problems. While some analysts are predicting share prices as low as $10, this is a company where rational valuation can be difficult. And with a 50 percent selloff, there's also a good likelihood of a rally to recover some of that lost price.
The best bet for investors is to avoid shares. If you love the company's prospects, by all means own some, but don't put too much of your portfolio into shares.