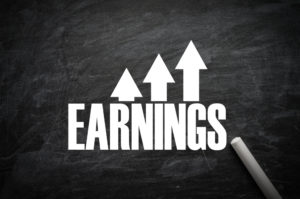 We're just entering earnings season and the potential for large moves increases as what isn't know about a company now becomes known. According to Zacks, S&P 500 earnings are expected to decline 44.4% last quarter on 10.9% lower revenues. This may not be all that surprising since this report encompasses most of the closures that took place between mid-March and May. While the actual data may create some movement, it's likely the guidance that will drive price even more.
Last quarter, it seemed like stocks moved relatively little when compared to expectations. The expected move over an earnings report is derived from the options market that is trading based on the expected movement. The expected movement is reflected in the option's implied volatility. While implied volatility is an annualized number, it can be broken down into discrete timeframes to gauge the movement of the stock in a day or a week.
When evaluating a company that is about to announced their quarterly earnings, looking at the analysts estimates, the price change leading into the report and the expected move from the options market will help get an idea of the risk and reward relationship of trading or holding through a report.
Check out our other recent posts.
Top 3 Opportunities for Tuesday
3 Stocks Setup to Make Big Moves
Here is a list of companies set to announce earnings this week that could move big.
Earnings Play #1: Netflix Inc (NASDAQ: NFLX)
Netflix is starting to see some trepidation heading into its earnings announcement on Thursday after the market close. When the price is extended in the near term, there is a tendency for there to be more asymmetry to the movement. In this case, there may be a little more downside on a surprise as opposed to upside. The expected move is +/- $52, which represents its one standard deviation range for the week. That is indicating a strong probability of at least a 10% move over earnings. Current earnings estimates for the quarter are at $1.81, higher than the $0.60 they made last year, and was revised $0.28 higher just over 60 days ago.
Earnings Play #2: Abbott Laboratories (NYSE: ABT)
Abbott has been pretty rangebound over the past week or so and is more of a 50/50 play on the direction of a larger-than-expected move. The current expected move for the 17 JUL 20 expiration is +/- $4.21. That range is inside of where it's been trading over the past few months. A positive surprise and/or guidance could have it move even more to the extremes of the range. The current estimates for Q1 are $0.41 EPS, which is lower than last year's $0.82. The estimates have remained level over the past 60 days.
Earnings Play #3: Taiwan Semiconductor Mfg Co Ltd (NYSE: TSM)
TSM is way overextended at the current price level. While extremes can get more extreme, often the positive news will lead to lesser upward movement than negative surprises. This is a result of a potential positive earnings surprise already being priced in. With the current expected move at +/- $3.21, a negative surprise may result in a down move greater than $3.21 and smaller than $3.21 to the upside on a positive surprise. Current estimates for Q1 are for $0.71 a share compared to $0.41 a year ago. The estimate has remained at its current level for at least 60 days.
Earnings Play #4: J B Hunt Transport Services Inc (NASDAQ: JBHT)
JBHT broke resistance on July 7 and is a little overbought at its current level. Similarly, it would be expected to have more of an asymmetric path on a positive or negative surprise. The current expected move is +/- $8.86, which is large. There may be a good chance that the price stays within that range, particularly on an upside move. The company is expected to make $0.83 last quarter compared to $1.37 a year ago. There was a significant negative revision made a little over 60 days ago, but it has remained stable since.