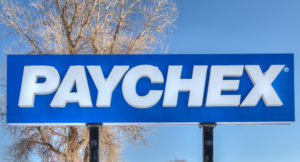 Paychex, Inc (NASDAQ: PAYX) is an integrated human capital management company. They assist small- to medium-sized businesses with payroll, human resource, retirement, and insurance services. The company reported their 4Q 2020 results on July 7. They reported a 7% decrease in revenue year-over-year and a decline of 5% in diluted earnings per share.
In the last week, the company was one of the most-sold stock by insiders. The company has 10.85% insider ownership with over 98% of the ownership being held by Thomas Golisano with over 37.5 million shares. The institutional ownership is 40.91% with Blackrock Inc (NYSE: BLK) being the top institutional holder at over 36 million shares.
The sole insider seller was Efrain Rivera, Sr. Vice President, who sold virtually all of his holdings at 396,355 shares totaling over $29.07 million. He was previously the second-largest shareholder of PAYX. On July 10, there were seven different insider sell transactions spread across seven different insiders.
Stock Caught Trading Under Secret Name...

It trades under a secret name... for just under $5.


But thanks to a developing situation that could create nearly 50,000 American jobs and $10 billion in facilities... this may soon be the most talked about stock in America
Here are links to our latest insider trading reports.
For Mastercard Foundation There is a Price: Mastercard Inc Stock (NYSE: MA)
Insider Buys Dovetails with Industrial Sector Strength: WESCO International, Inc (NYSE: WCC)
Action to Take: PAYX is a short on a close below $71 on above average volume with a $64 target.
Speculators may want to consider buying a 18 SEP 20 70/65 long put vertical for around $1.75 or less. This is a play on a bigger move in the price as we approach the fourth quarter.