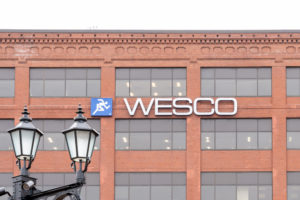 WESCO International, Inc (NYSE: WCC) is a leading provider of electrical, industrial and communications maintenance, repair and operating and OEM products and logistic services. Seems to be a fitting company to see strength in as potential of an infrastructure spending bill and possible an energy infrastructure bill crosses the headlines. The S&P 500 Industrial sector was the best performing sector on Wednesday and there appears to be rotation back into the sector over the past week.
Special:
Retire on these 3 stocks
The share price of WCC popped 9.48% on Wednesday on news of news of private equity firm Leonard Green & Partners disclosed a new 5.7 million shares or 11.4% stake in the company. An SEC filing shows Green Equity Investors VII, L.P. adding over 962,000 shares between July 10 and July 14, which increased their position by nearly 50%. This was the first insider transaction since June 2019.
Currently, insiders own only 4.47% of the company, but purchases and sales by 10% owners like Green Equity is significant since they typically buy and sell based on their outlook in the company.
Here are links to our latest insider trading reports.
10% Owner Doubles Down on this Biotech: Aldeyra Therapeutics Inc (NASDAQ: ALDX)
Lilly Endowment Appears to Time Their Selling Well: Eli Lilly And Co Stock (NYSE: LLY)
Action to Take: The June 8 resistance level near $42.50 is significant as it aligns with the 61.8% Fibonacci retracement of the 2020 downtrend. A close above that level is an indication that the price will fully retrace back to the 2020 high near $61.