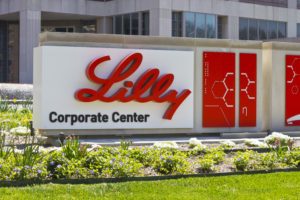 Eli Lilly And Co (NYSE: LLY) has been working on medications and antibodies to treat COVID-19. The company has partnered with Chinese company Junshi Biosciences and has two antibody candidates in Phase I studies. The deal with Junshi was inked last month and they hope to begin its Phase I study in the U.S. next month.
As you look at the chart of LLY, the share price has had a hard time breaking above its $165 resistance. A resistance is established as sellers begin selling at market into strength and the price reverses from up to down. This level has produced selling interest on three other occasions since April. Initially at the end of April, then again in mid-June and again the past few trading sessions.
As you look at the insider trading activity for this company, they have seen a steady flow of selling in the past several months. One of the consistent sellers has been the Lilly Endowment Inc. The company is a 10% owner and has reduced its holdings this year from over 115 million shares to 111 million. As you look at the timing of the selling over the last few months, it has dovetailed with the resistance levels.
Here are links to our latest insider trading reports.
Insiders May be Seeing Opportunity in Oversold and Under-Valuation: W&T Offshore, Inc Stock (NYSE: WTI)
Insiders Signaling a Potential Trend Reversal: Switch Inc Stock (NYSE: SWCH)
Action to Take: The fact the endowment is selling isn't exactly an extremely bearish indication, but it is an example of an owner that seems to indicate conditions are over bought. A close below $155 would indicate a short opportunity.