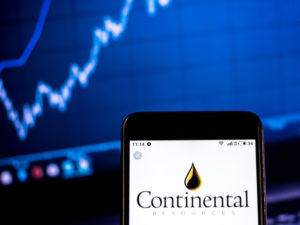 Continental Resources, Inc Stock (NYSE: CLR) is a crude oil and natural gas production company. They have among the lowest cost of operations amongst their peers and primarily operates in the Bakken field in North Dakota, South Dakota and Montana. The company is operating three rigs currently, but is targeting running off of two rigs by the end of 2020.
As oil prices continue to hover around $40 and last week's report of a large oil inventory draw, the price of CLR has been trading between $15 and $20. On Monday, CLR closed down 6.23% on higher trading volume as the price looks to test its $15 support again.
After the share price broke out on June 5, 2020, the Founder, Executive Chairman and 10% owner Harold Hamm began buying shares. On June 24, he purchased 3.4 million shares at $16.62 and then purchased 1.3 million shares on June 25. On July 1, 2020, he purchased another 3.13 million shares at $16.70. The additions amount to a 2.6% increase in the shares held of CLR.
Here are links to the last two insider trading reports.
Investment Bank Buys Back Shares as CEO Increases Purchases: B. Riley Financial Inc Stock (NASDAQ: RILY)
June Tally of Insider Selling has this Company Near the Top: Crowdstrike Holdings Inc (NASDAQ: CRWD)
Action to Take: CLR is a long opportunity with a close above $19 on above average volume or a test of $15 with a $30 target.