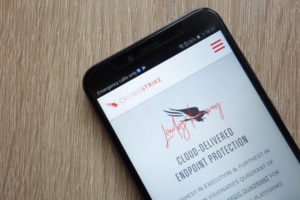 Crowdstrike Holdings is an endpoint protection company that is delivered through the cloud. The company's Falcon platform incorporates a lightweight platform and a threat graph that enables monitoring a managing of potential threats. In a previous post on April 20, 2020 the option market appeared to be looking for more upside. As the stock has increased over 56% since that time, it may be time to ask the question of whether it's now the right time to look for downside.
It's only been a couple weeks since the company posted a 52-week high close and on Thursday it posted the highest closing price in its history. Overall, the technical appear to be supportive of the price, except for the high-volume sell-off on June 26. However, it is hard to pick tops in the price of a stock and so looking for other indicators may be helpful when considering which companies should be on your watchlist.
This is where insider activity may help guide you. While insiders aren't always the best at timing, the idea is to look for breadth of selling and value. In the case of CRWD, the insider selling began in December and has remained steady since that point in time. Since the company had its IPO a little over a year ago, there are restrictions on selling. In the month of June, CRWD had 18 different sell transactions totaling 8.276 million shares and $851 million in value. The biggest seller was Warburg Pincus Private Equity who sold their remaining 7.46 million shares last month.
Here are links to the last two insider trading reports.
Insiders Went from Selling to Buying of this COVID-19 Vaccine Stock: Nantkwest Inc Stock (NASDAQ: NK)
Insiders are Buying Escalade, Inc Stock (NASDAQ: ESCA) and It's not Just for Sport
Action to Take: CRWD is a short opportunity with a close below $94 on above average volume.
Speculators may want to consider buying the 18 SEP 20 105/100 long put vertical for $2.25 or less.