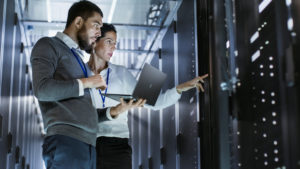 Some of the top-performing stocks of the past year have a lot in common. Many are known as "big tech" names due to their size. And they've performed well thanks to the fact that they're been well-positioned to increase market share and profitability during the pandemic.
These companies are also wildly overvalued by any traditional measure, whether by earnings, sales, or asset value. But one manager sees some big tech names heading even higher.
London-based fund manager ValuAnalysis see the trio of Tesla Motors (TSLA), Amazon (AMZN), and Nvidia (NVDA) as a group that's capable of growing from here. They are, in effect, companies that exist outside of conventional valuation.
Stock Market Takeover… Your Chance to 3X

The whole trading game has changed.

Until recently Wall Street would always win and ordinary folks were left fighting over the scraps.

Not anymore. With new technology…Instant, commission free trades…And a smartphone in every pocket…

You could be your own broker and make upwards of 339% on this next trade.

Ordinary people are now flooding the market with capital that forces certain stocks to skyrocket.

And they are winning… collecting huge gains on stocks before Wall Street even knows what's going on.

If you know what to look for…You too can ride, the "Robinhood Effect" and cash in on the next big winner today.
That's because these companies are disruptive, capable of growing their free cash flow over time, while most companies see fading cash flow over time due to quick obsolescence.
Action to take: In terms of profit margins and growth potential, all three companies are industry-dominating in their niche and disruptive. They're all certainly capable of moving higher, although no doubt all these companies will be volatile.
Of the three, Nvidia (NVDA) looks interesting as a trade here. The January 2022 $800 calls, trading for around $48, or $4,800 per contract, are a long-dated play on this uptrend in shares continuing for the next 14 months.
In the shorter term, traders should look for opportunities to buy call options on any of the three companies on any pullback greater than 10 percent in shares.