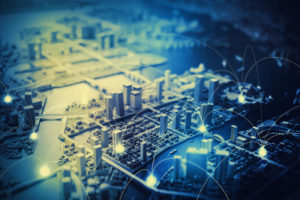 Although shares of Microsoft (MSFT) dropped on Wednesday, the culprit wasn't the company's earnings. They were stellar. Rather, the reason was the overall decline in markets as traders moved to cash.
That creates a buying opportunity, particularly as Microsoft continues to grow its market share in the cloud services space as well as in the gaming space. The company reports that Microsoft Teams has moved from 44 million users to 115 million… since March.
It's clear that the company has been a big winner from pandemic-driven changes in work life, with an overall 30 percent revenue growth rate in the past year. But that's not being reflected in shares, as the past few weeks have weighed on stocks ahead of the election.
AI SINGULARITY IS 3 MONTHS AWAY

This is the exact moment when AI will throw off its shackles, instantly growing billions of times more intelligent than Einstein.

A two-time hedge fund manager is sharing a "Singularity Investor Playbook" you can use to position yourself at the forefront of this historic moment.
That spells a buying opportunity. And unlike other big tech names, Microsoft is still a laggard, being up "only" 47 percent in the past year.
Action to take: While shares may still head down for a few more days, Microsoft is approaching a buy point. Long-term investors would do well to buy shares on a drop under $200.
For traders, shares are likely to make a run back to all-time highs of $232 on the next rally. The March 2021 $230 calls have a good chance of moving in-the-money on the next rally for shares.
Trading for around $9.15 after a big drop on Wednesday, the trade should provide mid-to-high double-digit returns, against a 15 percent rally in shares. That's a solid trade-off for betting on this strongly-performing company to rally as soon as market fears wane.