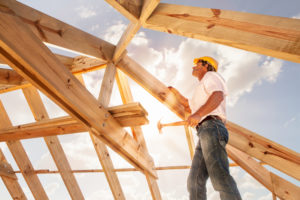 Election uncertainty allowed Treasury yields to rise in October. Rising yields mean a higher cost of capital for borrowers across the private sector as well. That put a pinch onto the prices of car loans, and mortgages.
With the major election uncertainty—big radical changes—off the table, Treasury yields are coming back down. And that's likely to be a boon to real estate, particularly housing.
Homebuilder stocks have already seen a disproportionately large rally in the past few days. That trend is likely to continue. 2020's unique challenges have benefitted homeowners, as many look to leave more densely populated cities and states.
AI SINGULARITY IS 3 MONTHS AWAY

This is the exact moment when AI will throw off its shackles, instantly growing billions of times more intelligent than Einstein.

A two-time hedge fund manager is sharing a "Singularity Investor Playbook" you can use to position yourself at the forefront of this historic moment.
That makes for a simple investment trend that traders can continue to ride for some time.
Action to take: Among the homebuilders, Lennar (LEN) looks attractive for playing the trend. Shares trade at just 11 times earnings, and offer shareholders a 1.3 percent dividend yield.
Traders can likely do better. The May 2021 $90 calls, trading for about $6.40 per contract, can move in-the-money on another 15 percent rally in shares. If the current uptrend continues, that can be easily achieved.
Traders should look for high double-digit profits here, but on a major surge in the homebuilders or an earnings beat, look to take a quick profit. This space can be surprisingly volatile!