About
Bio
Portfolio
BioPortfolio is the only biotech investment newsletter that offers its full history to every subscriber. Unlike other services that hype specific success stories with each newsletter, we show exactly how much you would have made investing according to the sentiment-based model – not just specific biotech stock picks. We use advanced natural language processing algorithms to pick up millions of analyst and blogger opinions in real-time to identify the best trading opportunities. Each week we send our subscribers the three best biotech stocks trades – two long, one short – that the system identifies (view example).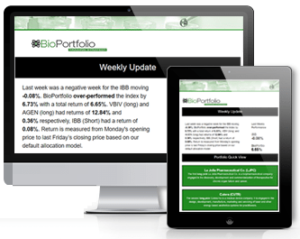 Annual Return BioPortfolio

69.9%

Annual Return IBB

23.1%
Newsletter Annual Return
BioPortfolio is the only trading strategy newsletter that provides its subscribers with a comprehensive performance history. BioPortfolio doesn't cherry-pick specific success stories to publicize while failing to generate a significant overall alpha. Here, you can view the annual returns of those who rebalanced their holdings according to the BioPortfolio's weekly biotech stock recommendations.
Year

BioPortfolio

IBB

Top Trade

Top Profit

2017

+70.45%

+20.93%

HALO

38.06%

2016

+31.2%

-18.8%

IRIX

23.9%

2015

+40.0%

+11.5%

SRPT

57.27%

2014

+110.5%

+34.1%

VRTX

31.41%

2013

98.6%

+65.5%

COLL

25.86%
The 2015 trade for SRPT was a short sale, thus investors profited from the decline in share price.
Features:
Personal Support

Weekly Newsletter

Swing Trading

Picks per Week

NASDAQ Bio
About
Bio

Portfolio

Biotech stocks are notoriously volatile as they react quickly and significantly to investor expectations. At BioPortfolio, we generate alpha by pinpointing exactly where that expectation is. Deploying TipRanks' award-winning algorithm, we highlight the coming week's best biotech stock picks by gathering the most extensive data available on the universe of biotech stocks. Once a particular stock exceeds its average publicity threshold, it will trigger a signal.

For example, Gilead Sciences, Inc. (NASDAQ: GILD) is a very well-covered stock, mentioned in hundreds of articles on a daily basis. It would take a very strong positive or negative sentiment to produce enough material for our system to detect it as having a positive or negative outlook. However, when a less-covered biotech stock suddenly begins to receive a lot of positive coverage, it will trigger our system. Out of all the stocks that are triggered by these signals, the two with the most bullish sentiments and one with the most bearish sentiment will be featured on the BioPortfolio newsletter.

Our measuring assumes you are 100% invested, with the value split evenly between our top two picks (50%/50%). A further 50% leveraged investment is allocated to our short pick, ensuring some level of market neutrality to the overall sector risk. Since the beginning of 2011, BioPortfolio has generated nearly 1,000% in compounding returns and is still going strong.
The newsletter is sent every Monday morning at 9AM EST, giving you plenty of time to evaluate the weekly picks before the market opens. BioPortfolio is simple to maintain because most picks only require rebalancing every 3-4 weeks, making it suitable for both beginner and veteran investors. Due to the very large swings, we highly recommend making BioPortfolio a portion of your overall investment strategy. Potential picks (universe) includes all US biotech stocks with a market capitalization above $100 million and share price above $4.00.
Great Timing
March 10, 2015

Great on timing the buys and sells around large swings. To me this is the only way to profit from this sector long term

Greg M.
No Gimmicks
June 12, 2016

Very consistent investment newsletter, better than anything else I have ever used. It's very clear and insightful with no gimmicks.

Garret L.
Helped Me Relax
August 15, 2017

I kept on mistiming my Biotech trades, this tool really helped me take the human anxiety factor out of the equation. Thanks!.

Ann B.
40% in a Month!
Jan 25, 2016

I only used your short picks (although fairly recently), made over 40% in a month!

Peter G.
Would Love More Picks!
July 28, 2014

Thanks for this great strategy. I like the simple stock pick approach without the long auto generated filler texts. Would love to have even more picks based on your algorithm each week to increase my diversification

Danny P.
24/7 Customer Support
At TradingTips.com we make sure that you get the most out of BioPortfolio's features and maximize your trading potential. Feel free to contact us with any questions.
Risk-Free Sign Up
BioPortfolio subscribers are protected by the TradingTips cancel anytime guarantee. Not satisfied? Monthly subscribers can cancel anytime and quarterly subscribers can always receive a full refund on the balance.
How do I receive the weekly picks?
The two long picks and one short pick are sent every Monday by 9 AM EST to the email you provide us upon signing up.
Can I contact you for questions?
Yes, the strategy has a personal support email address for its subscribers. An analyst specializing in the model can answer all questions regarding the service and strategy.
Is this strategy suitable for beginners as well?
Yes. This strategy is very easy to implement and is suitable for beginners as well. Please note that biotech stocks are very volatile and with a short position you can lose more than you initial invested money.
On what data is the model based?
The model is based on real time data collected from the internet by the financial accountability engine TipRanks. This includes what analysts and bloggers are saying on over 100 covered sites.
What does "risk free" mean?
All audited newsletters are protected by a TradingTips cancel anytime guarantee. If you wish to discontinue the service simply email support@tradingtips.com and you will have your auto-renewal cancelled immediately, no questions asked. Please see our terms & conditions to learn more about our commitment and user protection policy.
Can I change my plan later?
Yes, you can upgrade anytime by contacting our support team.
Bio

Portfolio

is Powered by the Multi Award Winning

Tip

Ranks Algorithm
[smartslider3 slider=2]
Benzinga

2015 Fintech Awards

Best in Class in the Trade
Recommendations Category

Finovate

Best Of Show Award

Finovate Fall 2013
Finovate Spring 2013

IBM Watson

2015 IBM Watson

First Place for Outstanding
Achievement
A multi-award winning platform
Benzinga
2015 Fintech Awards
Best in Class in the Trade Recommendations Category

Finovate
Best of Show Award
Finovate Fall 2013 Finovate Spring 2013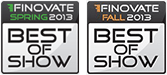 IBM Watson
2015 IBM Watson
First Place for Outstanding Achievement

[smartslider3 slider=4]