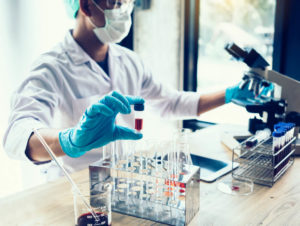 If you were asked to make a list of drug companies, only a handful of names would likely come to mind. For investors, it's pretty much the same. This is actually a rational approach since so many biotech companies have little to no revenue and are bleeding cash. However, there's opportunity with smaller companies you don't have with the big boys. Here are five junior biotech companies that are in the industry and have less than a $5 billion market cap.
 Junior Biotech #1: Crispr Therapeutics AG (NASDAQ: CRSP)
CRISPR is a $6.27 billion biopharmaceutical company focused on creating gene-based medicines for serious diseases. In the company's recent earnings press release Samarth Kulkarni, Ph.D., Chief Executive Officer, discussed the company's current programs:
"We continue to make substantial progress driving our multiple, ongoing clinical development programs. Enrollment in our immuno-oncology trials is ongoing, and we've re-initiated dosing in our CTX001 trials…Further, we expect to report data from our CTX001 program targeting hemoglobinopathies and our CTX110 program later this year. Despite the challenges posed by COVID-19, we continue to execute on our programs and remain focused on our commitment to patients and their families."
CRSP has a low debt-to-equity ratio of 0.06 and a cash-to-debt ratio of 18.82. They have a 3-year revenue growth rate of 129.5%.
Junior Biotech #2: Medpace Holdings Inc (NASDAQ: MEDP)
Medpace is a $4.6 billion full-service clinical contract research organization (CRO) providing Phase I-IV clinical development services to the biotechnology, pharmaceutical and medical device industries.
The company saw its revenue decline 4.3% in Q2 and a 9% decrease in net new business awards compared to last year. Also, EBITDA decreased 12.9% resulting in EBITDA margin of 17.1%.
They have generated 25.5% revenue growth over the past three years with a 3-year EBITDA growth rate of 13.3%. Their debt-to-equity is 0.16 with a cash-to-debt ratio of 1.4.
Junior Biotech #3: Pacira Biosciences Inc (NASDAQ: PCRX)
Pacira BioSciences is $2.58 billion provider of innovative non-opioid pain management options. In the their recent earnings report, Dave Stack, chairman and chief executive officer, discussed their recent financing strategy:
"This pandemic has accelerated the shift of inpatient procedures to the 23-hour stay environment and we are well positioned to lead the way with our innovative opioid alternatives.
Today, we are in a stronger position than ever as we wind down our partnership with DePuy Synthes and take full ownership of the EXPAREL franchise. Our recent financing strengthens our financial foundation and supports our strategy to expand our footprint in non-opioid pain management and regenerative health solutions while simultaneously ramping the top and bottom lines."
COVID-19 policies were a definite detractor for the company as revenues declined 26% from a year earlier. The company was able to lower operating expenses from $97.3 million to $82.7 million. Despite the decline, the company has a 3-year revenue growth rate of 7.31% and a 3-year EPS growth rate of 35.8%.
Junior Biotech #4: Xencor Inc (NASDAQ: XNCR)
Xencor is a $2.05 billion clinical-stage biopharmaceutical company developing engineered monoclonal antibodies for the treatment of cancer and autoimmune diseases. Bassil Dahiyat, Ph.D., president and chief executive officer, discussed the company's FDA approval:
"Late last week, the U.S. Food and Drug Administration approved MorphoSys' Monjuvi® (tafasitamab-cxix) for patients with an aggressive form of lymphoma, diffuse large B cell lymphoma. We are delighted that tafasitamab, created at Xencor and now the second drug with XmAb® technology to receive marketing approval, expands options for treating patients with this difficult-to-treat blood cancer."
As a clinical-stage company, they won't have the profitability and revenue of a company with products. While the earnings and revenue picture isn't pretty, the recent approvals and the low debt and high cash levels places the company in a good position if the company has a product. Also, it makes the company a potential acquisition target.
Junior Biotech #5: Veracyte Inc (NASDAQ: VCYT)
Veracyte is a $1.91 billion global genomic diagnostics company. In the most recent earnings press release, the chairman and chief executive officer Bonnie Anderson discussed the company's performance:
"Our genomic testing volume doubled between April and June as hospitals started performing more non-emergency procedures and physician practices began to open. We have begun leveraging opportunities for new virtual sales and marketing models to increase efficiency and drive growth. We also remain on track to bring four new tests to market in 2021, further accelerating our growth. Additionally, we continued to grow our biopharmaceutical and diagnostic partnerships to fuel our global expansion with a comprehensive test menu that extends our total addressable market beyond the $40 billion for our current and pipeline products."
The company had gross margin of 63% in Q2 and a 3-year revenue growth rate of 4.9%. They have 3-year EBITDA and EPS growth rate of 42.1% and 37.2%, respectively.