It's safe to say 2020 has been one of the most volatile years on record.
All thanks to the pandemic, U.S. elections, an indecisive Congress, higher unemployment, wildfires, earthquakes, threats of war, you name it…
2020 has been a wild, wild year.
But we're still finding plenty of opportunity. In fact, if you're looking for your next chance to double your money, consider these five stocks.
Opportunity No. 1 – Plug Power (PLUG)
Goldman Sachs just said green hydrogen could create a $12 trillion opportunity.
Special:
The Time to Invest in 5G Is NOW!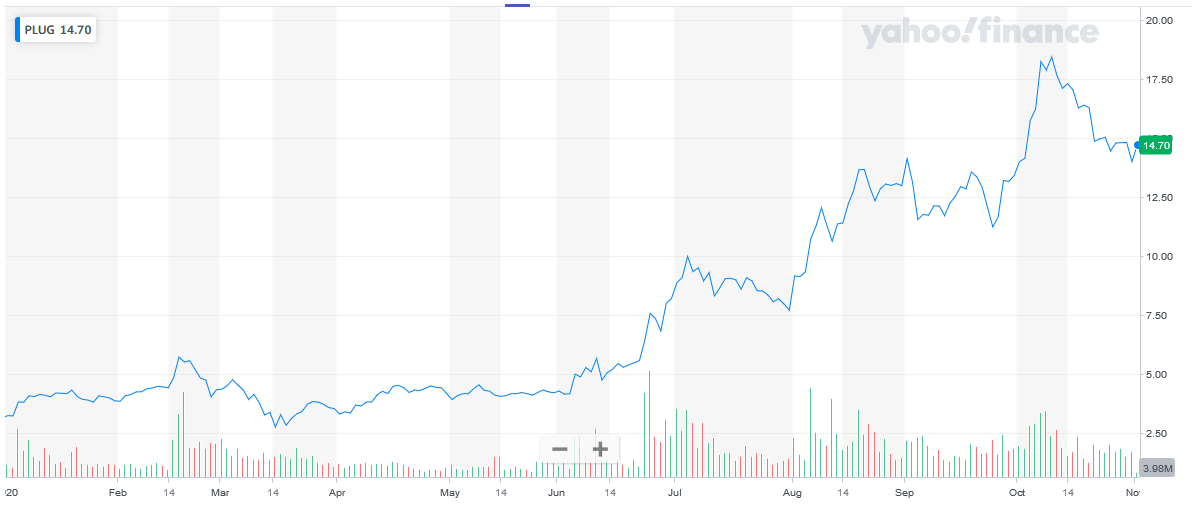 In fact, they say the addressable market could be worth up to $11.7 trillion in the next 30 years with the U.S., Asia, and Europe leading the way.
Analysts at Bank of America says green hydrogen could be worth more than $11 trillion by 2050, as well. In fact, the firm compared green hydrogen to smartphones pre-2007 and the Internet prior to the dot-com boom, as also highlighted by Barron's.
One of the best ways to trade the story is with Plug Power.
"Plug Power customer demand for hydrogen has grown 10x in five years – nearly a 200% annual growth rate. From a market perspective, McKinsey expects hydrogen will provide 18% of global energy by 2050. As the world's largest supplier and user of liquid hydrogen, we're positioned as the forward-thinking company, leading the expansion of green hydrogen technologies while growing their use into a range of transportation and stationary power applications."
"We're projecting using more than 80 tons of hydrogen in 2024, and have made a commitment to achieve 50% green content," they added.
Opportunity No. 2 – Advanced Micro Devices (AMD)
For one, new gaming consoles from Microsoft and Sony will both feature AMD chips.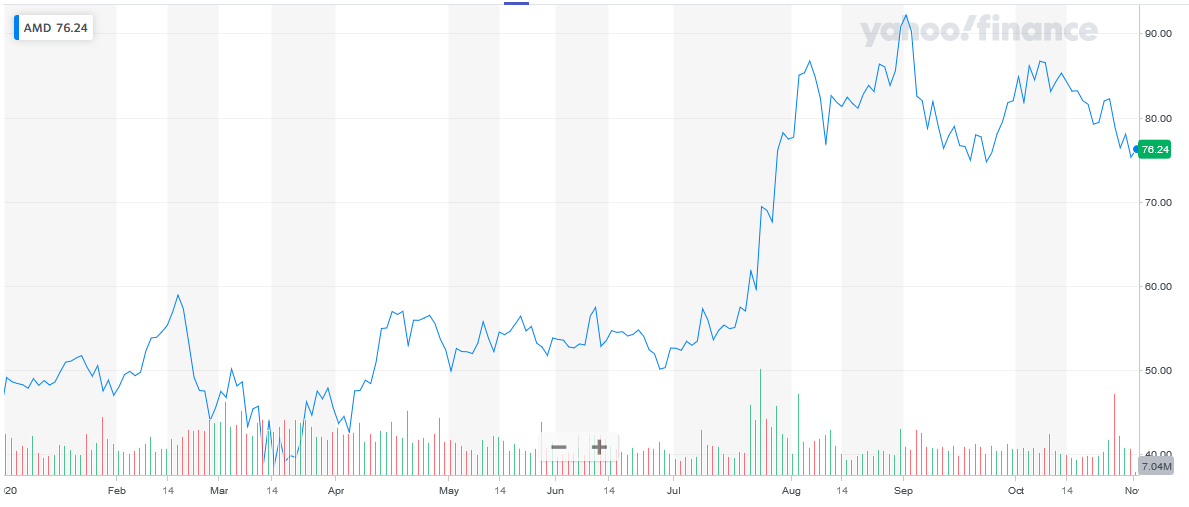 Two, it's seeing big demand for its data center chips with millions now working and schooling from home thanks to the pandemic.
Three, Advanced Micro Devices is also benefiting from cloud-computing service demand. As companies race to invest in infrastructure to handle the demand from every one staying at home. "If you look at Amazon or Azure and how much infrastructure usage increased over the past two weeks, it would probably blow your mind how much capacity they've had to spin up to keep the world operating," said Dave McJannet, HashiCorp Inc., which provides tools for both cloud and traditional servers. "Moments like this accelerate the move to the cloud."
Opportunity No. 3 – Nio Inc. (NIO)
NIO could be a $40 stock, near-term.
Analysts at Citigroup say buy, boosting their price target by just over 82% to $33.20 from $18.10.  The firm believes NIO has a "very strong" order backlog, lower battery cost, and "policy tailwind related to exports," as noted by MarketWatch.
Helping, the company is still seeing record-breaking delivery numbers.
In September 2020, the company said it delivered 4,708 vehicles – a growth rate of just over 133% year over year.  It sold 3,210 ES6, 1,482 ES8, and 16 EC6 model vehicles.  NIO delivered 12,206 vehicles in the third quarter of 2020, representing an increase of 154.3% year-over-year and exceeding the higher end of the Company's quarterly guidance.
For August 2020, NIO completed 3,965 – a year over year increase of just over 104%.  That's also a 12.2% jump month over month.  Cumulative deliveries, says the company, are up to 21,667 for the year, an increase of nearly 110% year over year, as well.
For July 2020, the company quadrupled its EV sales.  In fact, sales were up 322% to 3,533 vehicles – its second best month ever.
Opportunity No. 4 – Fiverr International (FVRR)
With many people now out of work because of the coronavirus, the company has seen a record number of new freelancers signing up for its services. FVRR has also added new categories for working and learning from home.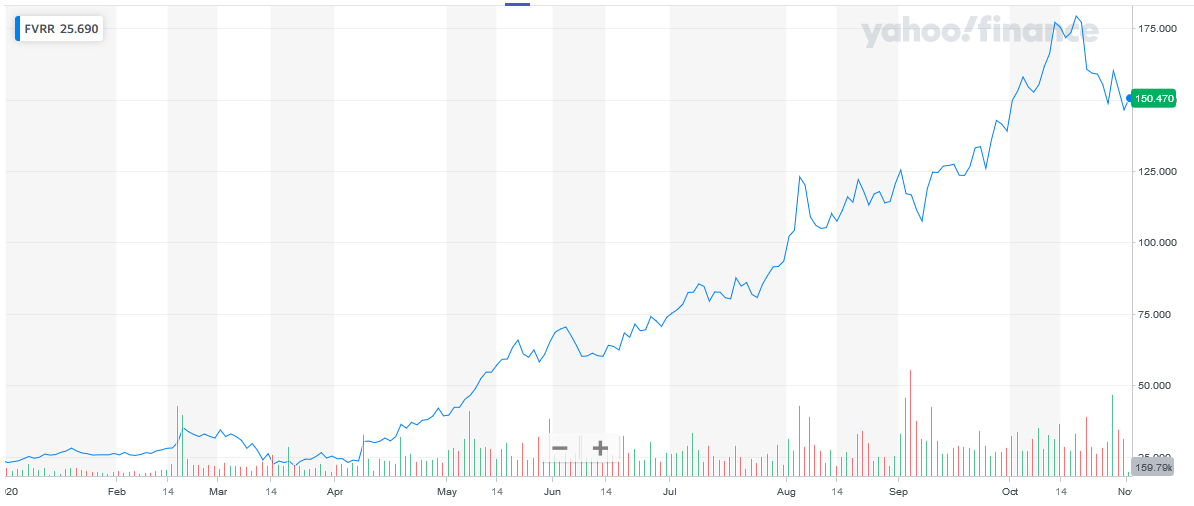 Better, FVRR just reported that strong momentum continued into Q3 with 88% y/y topline growth – we continue to execute and drive results as the global shift towards digital transformation and remote work accelerates.
"The third quarter represented another quarter of record-setting growth. The strong momentum seen in Q2 carried into Q3 and we delivered accelerated topline growth of 88% y/y and Adjusted EBITDA margin of 8.0% in Q3'20. We continue to see sustainable trends in businesses upping their investments into digital transformation and their increasing willingness to adopt a remote and flexible workforce," said Fiverr founder and CEO Micha Kaufman. 
Opportunity No. 5 – Lithium Americas (LAC)
With the world nearing a potential lithium supply crunch again, LAC is a top pick.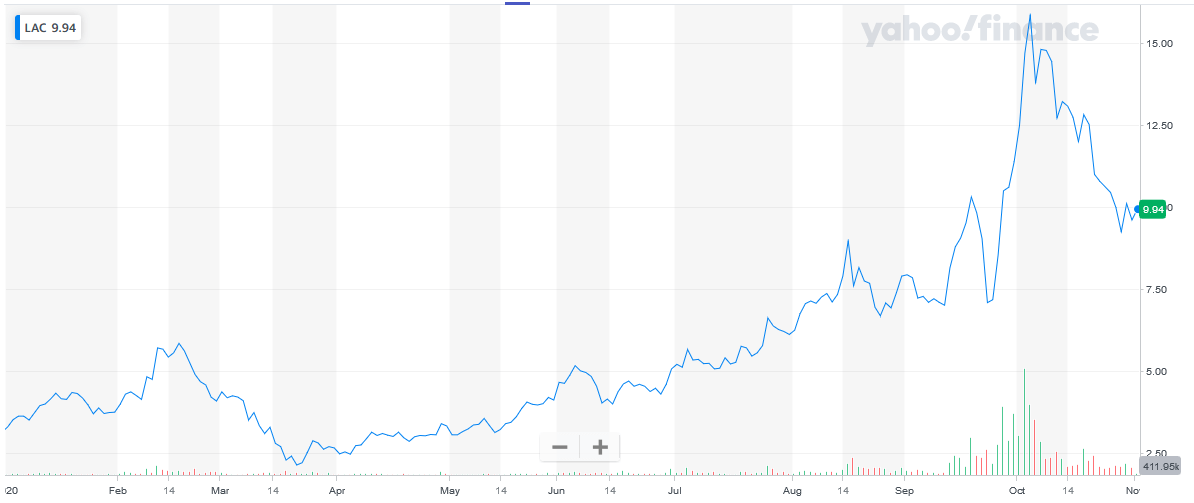 "A global push for EV adoption, helped by government subsidies and incentives, means that demand for lithium is not going away. Companies like Volkswagen, Ford, Mercedes and Amazon having started shifting their focus to electric vehicles," reports Bloomberg.
And, according to the Boston Consulting Group, by 2025, EVs could account for a third of all auto sales.  By 2030, EVs could surpass combustion engine vehicles with a market share of 51%.
Helping, General Motors just announced that its investing $2.2 billion in U.S. manufacturing to increase EV production. Plus, California Gov. Gavin Newsom just signed an executive order that will ban the sale of gas-powered passenger cars in the state starting in 2035. That means only EVs will be available for purchase in the next 15 years.
However, for any of that to be successful, far more lithium is needed immediately.