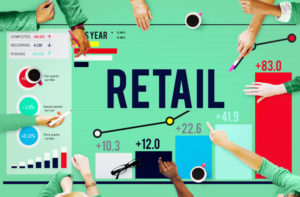 A volatile session of selling like yesterday can be a good time to see who's moving. Identifying rising stocks as the rest of the market is panic selling identifies potential opportunities. It's probably not a surprise to see companies that have generally underperformed stand at the top of the heap. This is especially true when these names have had a flurry of bullish stock and option activity. Thursday didn't disappoint in this regard as many "reopening" names outperformed. Here are five retail names that stood out.
Retail Stock #1: PVH Corp (NYSE: PVH)
PVH Corp manufactures apparel and owns brands like Calvin Klein, Tommy Hilfiger, Heritage Brands and others. The share price faded from the high on Thursday but finished 3.26% higher on the session. The move in the share price came in response to the company's earnings report that saw them post a $0.13 per share profit against analyst estimates of a $2.42 loss.
Emanuel Chirico, Chairman and CEO, discussed the quarterly report:
"Our second quarter revenue exceeded our expectations, reflecting better than expected performance in all our markets and channels. We continue to see outperformance in our digital businesses and across our comfort and casual assortments. As we head into the third quarter, trends in China and Europe continue to be very encouraging. However, our North America business continues to experience pressure due to the resurgence of COVID-19 cases and the lack of international tourist traffic coming to the U.S."
Retail Stock #2: VF Corp (NYSE: VFC)
VF Corp designs and manufactures branded lifestyle apparel, footwear and other products. The company uses North Face, Timberland, Altra, Jansport, and other brands. They currently pay a 2.8% dividend yield and finished 0.19% higher on Thursday. The price is testing its June 8 high and a close above that level gives this stock room to run.
While they posted a Q2 loss of $0.57, they did beat analyst estimates of a $0.67 loss. Since the report, analysts have raised estimates for 2021 and 2022 slightly. The Chairman, President and CEO Steve Rendle discussed the company's operations in the pandemic:
"VF is built for this moment, which is what gives us continued confidence and optimism…Our financial and operational rigor, the affinity consumers have for our iconic brands, and the progress we've made in recent years with our digital transformation have us well-positioned to not only manage the complexities of the current environment, but to drive long-term growth. As we continue through our fiscal year, we'll build on the strengths we're already seeing in the core elements of our strategy, including maintaining our strong cash and liquidity position and further accelerating our digital business worldwide, especially in China."
Retail Stock #3: Nordstrom, Inc (NYSE: JWN)
Nordstrom finished the session 1.67% higher on Friday's session. And has been trading near the same $15 support level for about two weeks. The company experienced some significant bullish option activity before the earnings, but the stock failed to move higher. While the company hasn't exactly found its way on its feet yet, they were able to secure financing that left them in a good position. The company's CEO Erik Nordstrom discussed the financing:
"At the onset of the pandemic, we focused on protecting and enhancing liquidity, and we successfully executed on these plans…Thanks to our team's efforts during the second quarter, we further strengthened our balance sheet with liquidity of $1.3 billion and generated operating cash flow of more than $185 million. We are now pivoting to prioritize market share gains and profitable growth as we advance our strategies."
Retail Stock #4: Macy's Inc (NYSE: M)
Macy's finished Thursday's session 7.94% higher. The company beat analyst estimates by 54.2% from Q2 and currently has a 21.9% projected revenue growth rate for their 2022 fiscal year. Following the report on September 2, analysts have raised guidance significantly for 2021 and 2022.
In an interview with CNBC, Macy's CEO Jeff Gennette discussed the opportunity in luxury retailing:
"Look at luxury right now, look at Neiman's, look at parts of Lord & Taylor…There is opportunity for us. Nordstrom is closing stores…Bloomingdale's is having a moment…We have brands in our arsenal that we didn't have before that are looking for additional distribution."
Retail Stock #5: Ralph Lauren Corp (NYSE: RL)
Ralph Lauren closed 3.58% higher on Thursday and finished near the high of the session. The company reported earnings on August 4 that missed analyst estimates by 5.8% but saw significant positive revisions to 2021 and 2022 fiscal year EPS.
Patrice Louvet, President and Chief Executive Officer discussed the company's navigation of the pandemic:
"The past few months have marked a period of extraordinary challenge, but also agility and resilience…Our financial performance this quarter reflects an unprecedented three months of COVID-19-related impact around the world. We are taking the opportunity to leverage this period of disruption to accelerate our core strategic focus areas, drive new areas of growth, and realign our resources accordingly."