Investing in stocks has always been great way to grow your wealth in the long run.
However, if you really want to earn more bang for your buck, it pays to invest in stocks that also pay out consistent dividends.
Such stocks allow investors to profit in two ways: one, through potential appreciation of the stock price, and two, through dividend distributions. Better, many dividend paying companies also have a good amount of cash and hand, and are typically strong companies with good prospects for long-term growth.
In fact, here are seven of the top high-yielding stocks you may want to consider.
High Yielding Stock No. 1 – Johnson & Johnson (JNJ)
While the company has seen its share of headaches over the last year or so, it's still well worth the investment. The company just increased its dividend from 95 cents to $1.01, marking the 58th straight year of dividend increases. The company also boasts a strong balance sheet.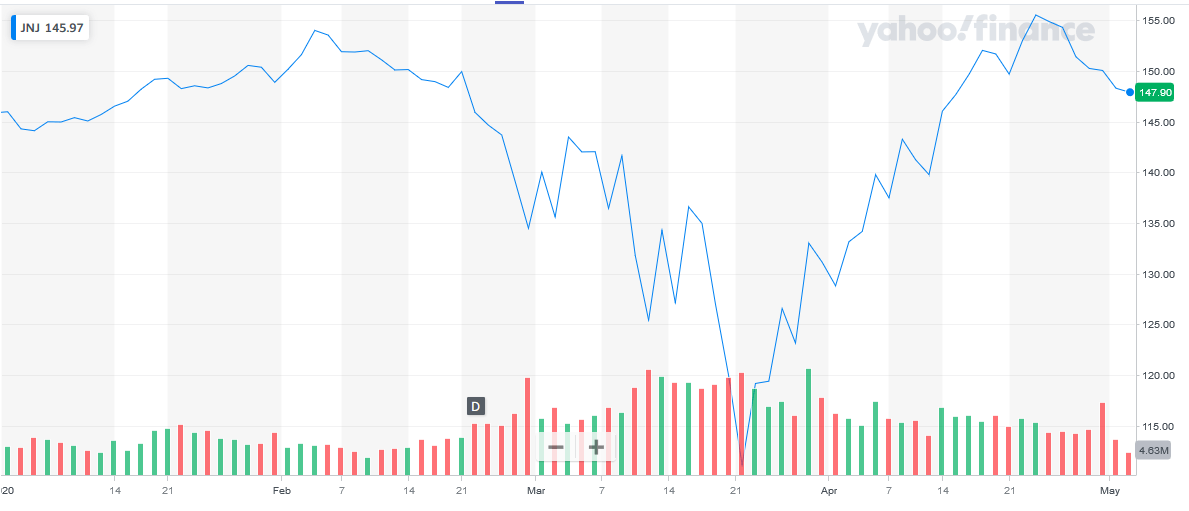 The company just posted first quarter earnings of $2.30, which beat estimates calling for $2 a share. As noted by Barron's, "Sales of $3.6 billion in its consumer-health division, up from the $3.3 billion a year earlier. Pharmaceutical sales were also up 10.2% from the first quarter last year on an adjusted operational basis, while medical device sales were down 4.8%."
"The fundamentals of Johnson & Johnson are strong," Chief Financial Officer Joseph Wolk said, as quoted by Barron's. "Once this pandemic abates, everything is still in line for us to get back to where we thought, and where folks thought, we would be."
High Yielding Stock No. 2 — Procter & Gamble (PG)
Procter & Gamble has held up considerably well in the COVID-19 pandemic. The company just increased its dividend for the 64th straight year with a payout of $0.7907. Another reason to like PG at the moment is its wide range of personal care products, and other day to day essentials.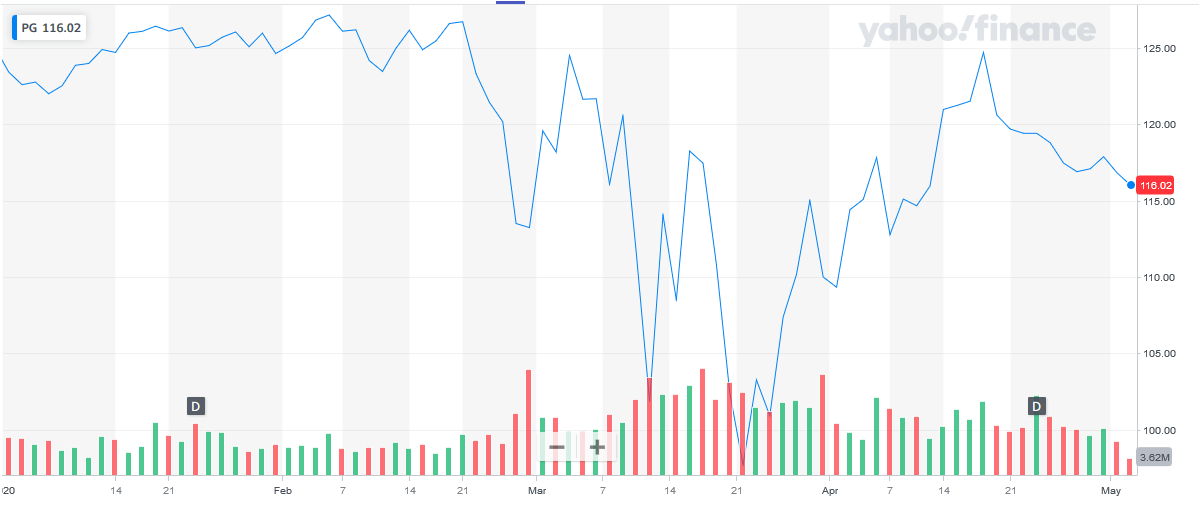 It also just got finished posting solid earnings. PG earned $1.17 a share on $17.2 billion in sales in the third quarter, as compared to expectations for $1.13 on $17.3 billion in sales.
"The strong results we delivered this quarter are a direct reflection of the integral role our products play in meeting the daily health, hygiene and cleaning needs of consumers around the world," said CEO David Taylor. "Our organization has been doing a terrific job against our near-term priorities."
High Yielding Stock No. 3 – Apple Inc. (AAPL)
Apple just declared a quarterly dividend of 82 cents per share, or $3.28 annualized. The company increased its dividend by 5% in 2019 and by 16% in 2018. Apple also announced it would boost its buyback program by $50 billion this year.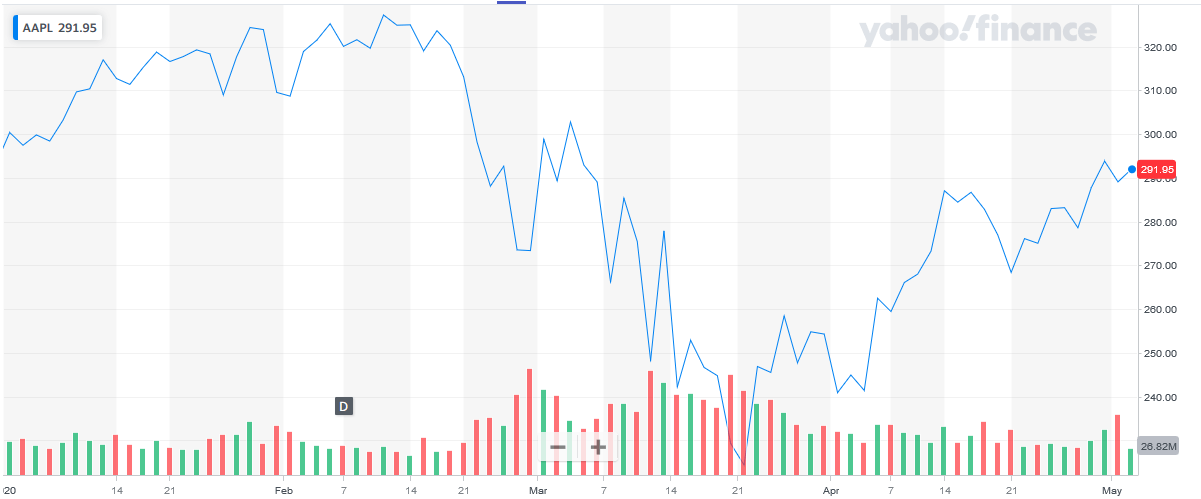 In addition, the company just posted second-quarter net income of $11.25 billion, or $2.55 a share, which was down from $11.56 billion, or $2.46 a share, a year prior. However, that still beat estimates for $2.24 a share. Revenue was up to $58.31 billion from $58.02 billion, which was above estimates for $54.78 billion.
Better, 2020 could be a big, big year for Apple.
Not only could Apple win the 5G market share race, it'll benefit from the wider adoption of wearables. At the moment, its Apple Watch, for example, accounts for nearly half of all smartwatch sales. Plus, Apple has plans to double its services revenue by 2021. Services revenue currently accounts for 20% of AAPL revenue, up 16% year over year.
High Yielding Stock No. 4 – Waste Connections (WCN)
The waste services company just increased its dividends for the tenth time to $0.185 per share. The regular quarterly cash dividend will be paid on March 12, 2020, to shareholders of record at the close of business on February 27, 2020.  The Board intends to review the quarterly dividend each October, with a long-term objective of increasing the amount of the dividend.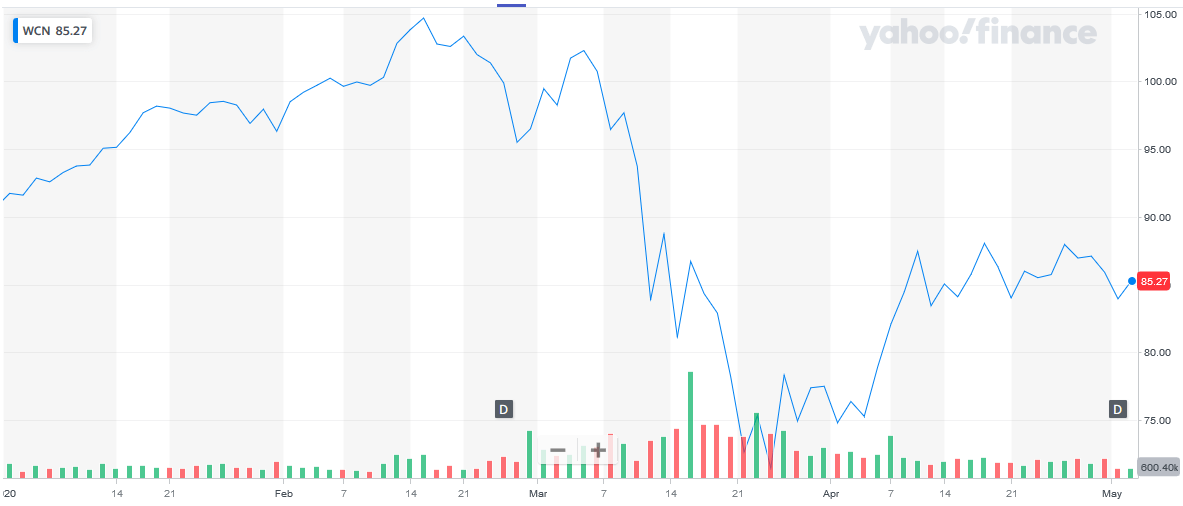 "2019 ended on a high note, as financial results for the fourth quarter exceeded expectations on better than expected solid waste price growth, E&P waste activity and acquisition contribution.  We are also extremely pleased with our results for the full year, as underlying adjusted EBITDA* margins in solid waste collection, transfer and disposal expanded by 50 basis points.  Moreover, our ability to deliver full year adjusted free cash flow of $916.8 million or 17.0% of revenue and 54.8% of adjusted EBITDA on a 16.2% increase in capital expenditures as we reinvested in and expanded our business is indicative of our disciplined focus on quality of revenue and free cash flow generation," said Worthing F. Jackman, President and CEO.
High Yielding Stock No. 5 – AT&T (T)
AT&T just paid a dividend of 52 cents on May 1 to shareholders of record on April 9. Better yet, it's in a great position to maintain dividends with $3.9 billion in free cash flow in the first quarter. The company also has $8.9 billion in cash at the end of the first quarter.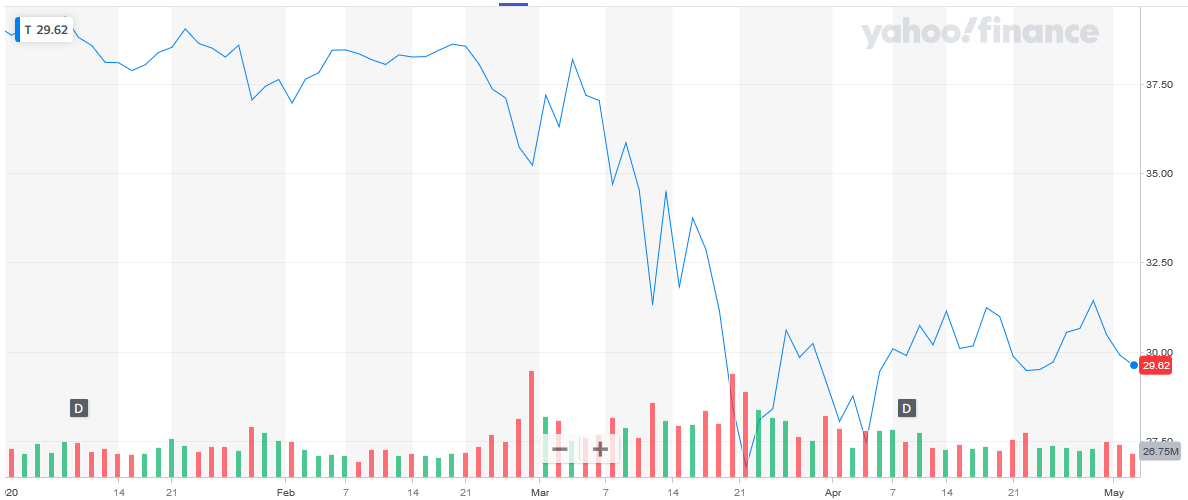 "The COVID pandemic had a 5 cents per share impact on our first quarter. Without it, the quarter was about what we expected — strong wireless numbers that covered the HBO Max investment, and produced stable EBITDA and EBITDA margins," said Randall Stephenson, AT&T Chairman and CEO.
"We have a strong cash position, a strong balance sheet, and our core businesses are solid and continue to generate good free cash flow — even in today's environment. In light of the pandemic's economic impact, we've already adjusted our capital allocation plans and suspended all share retirements," Stephenson said.  "As a result, we're able to continue investing in critical growth areas like 5G, broadband and HBO Max, while maintaining our dividend commitment and paying down debt."
High Yielding Stock No. 6 – 3M (MMM)
3M just increased its dividend for the 62nd consecutive year to $1.47 a share – a 2% increase year over year. This was payable March 12, 2020 to shareholders of record on February 14.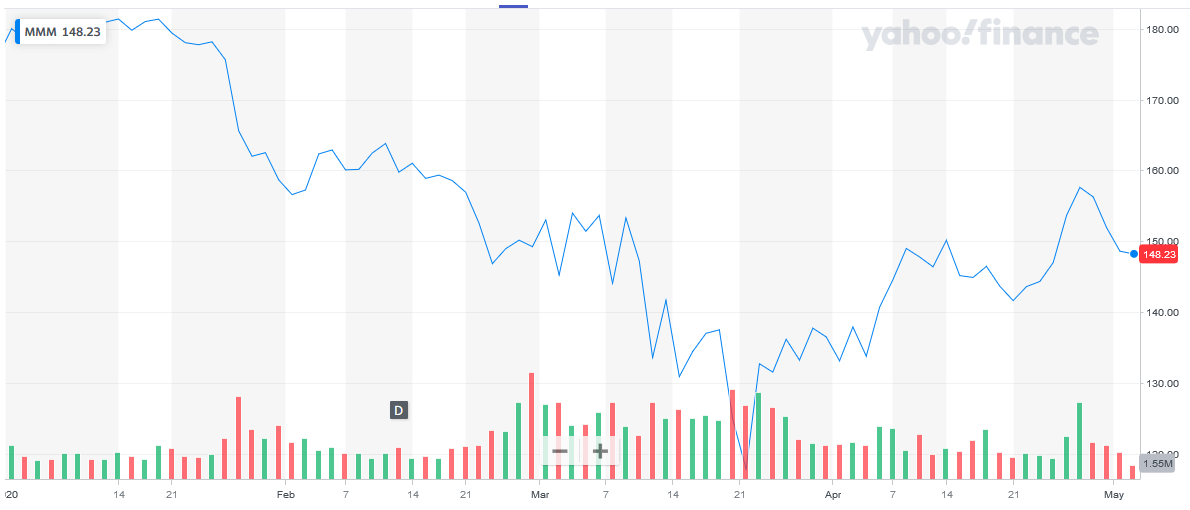 The company is also taking steps to protect its dividend. In fact, in its most recent earnings report, it noted, it was "Taking aggressive cost reductions while minimizing employee impact—estimated cost savings of $350 to $400 million in the second quarter of 2020; Adjusting capital allocation plans—prioritizing organic investments and the dividend, and suspended share repurchase program."
"Given the breadth and diversity of our businesses, the financial impact of COVID-19 is varying across 3M. In the first quarter we saw strong growth in personal safety, as well as in other areas of our portfolio experiencing high demand due to the pandemic," said CEO Mike Roman. "At the same time, we experienced weak demand in several end markets that were more severely impacted by actions taken around the world to slow the pandemic," he added. "Looking ahead, 3M is taking action that will help us navigate near-term uncertainty, generate strong cash flow, and lead out of the slowdown by delivering for employees, customers and shareholders."
High Yielding Stock No. 7 – Broadcom (AVGO)
At the moment, AVGO's dividend yield of 5.8% is safe, says Oppenheimer.
"We like AVGO's impressive margin/FCF profile and group-high dividend yield. We reiterate Outperform and $350 target." From current levels his $350 price target indicates significant upside potential of almost 50%.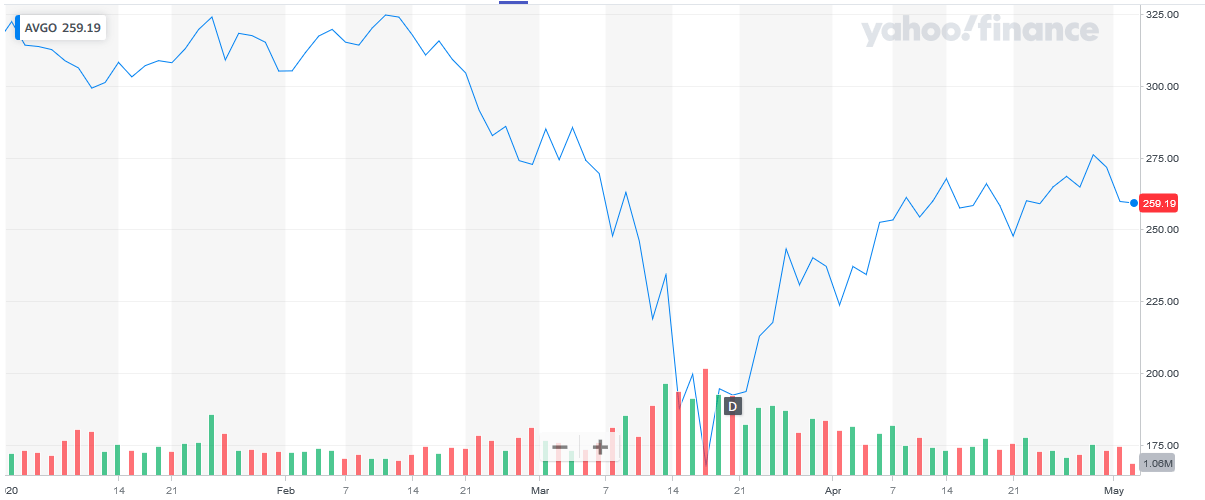 Better, the company should benefit from the rollout of 5G networks. As a manufacturer of wireless chips for smartphones, the company should continue to see big demand as telecoms expand with 5G, and as consumers upgrade devices.
"Our first fiscal quarter results were in line with our expectations, with our networking, storage and broadband businesses together growing nicely year over year," said Hock Tan, President and CEO of Broadcom Inc. "The fundamental semiconductor backdrop has been improving, and we did not see any material impact on our businesses due to COVID-19 in our first quarter. However, visibility in our global markets is lacking and demand uncertainty is intensifying. As a result, we believe it prudent to withdraw our annual guidance until visibility returns to pre COVID-19 levels."
"We generated over $2.2 billion in free cash flow in the quarter, which represented 9% growth on a year on year basis," said Tom Krause, CFO of Broadcom Inc. "We ended the first quarter with over $6.4 billion of cash on hand and our cash flow outlook remains healthy. As a result, we are well positioned to continue to support our dividends to stockholders despite the challenging market backdrop."
Special:
Buy These 3 Cryptos to Beat Bitcoin