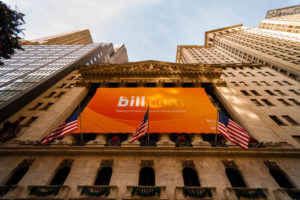 Last month brought on the selling from insiders as executives sold $6.7 billion of stock in August. The ringing of the cash register with the market at a high isn't exactly a terrible thing, but it's a reflection of the perception of valuation. A company that saw a lot of selling activity and notional value by insiders came from Bill.com Holdings Inc (NYSE: BILL) as the stock is falling from its 52-week high.
According to the Financial Times, the dollar value of insider sales by 1,042 chief executive officers, chief financial officers and directors was the most in the past five years. According to Max Gokhman, head of asset allocation for Pacific Life Fund Advisors:
"Chief executives have been much more downbeat in their outlooks than investors…If you think that your future is dim but your stock is soaring then it makes sense to sell."
Since August 27, Bill.com has had nine sale transactions totaling over 4.25 million shares. The total value of the selling was over $410 million and includes the President and CEO, CFO, general counsel and CCO, and several directors. The selling occurred after their most recent earnings report and alongside the recent selloff in the price.
Action to Take: BILL is a short opportunity with a $70 target near the 50% retracement of the March through August uptrend.
Speculators may want to consider buying the 20 NOV 20 85/80 long put vertical for a$2.50 or less.