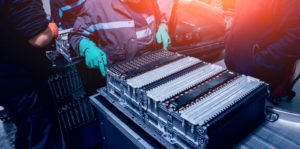 CBAK Energy Technology Inc (NASDAQ: CBAT) is an energy technology company that manufactures and sells lithium batteries in globally. The batteries are used for a variety of purposes including electric vehicles, bicycles, electric motors, tools, and other applications. In June, the insiders stepped up their buying just before the breakout. After the price pulled back on light volume, the company is breaking out again.
Special:
Retire on these 3 stocks
On Thursday, the stock closed 17.2% higher. The company is a penny stock, but the volume has been surging since early June when the buying began. The price yesterday did find its way back down toward the middle of the daily range, but the movement is an indication that the price may be looking to move significantly higher.
On June 3, 2020 YunFei Li, CEO and 10% owner, bought over 2 million shares, increasing his holdings by 20%. On the same day, Asia EVK New Energy Auto bought over 2 million shares as well and increased their holding by over 20%. With over 30% of the shares held by insiders, it's a strong indication that they're aligned with the business.
Here are links to our latest insider trading reports.
Pandemic Selling at Its Finest: Regeneron Pharmaceuticals Inc Stock (NASDAQ: REGN)
Insider Finds His Price on Communications Company: AT&T Inc Stock (NYSE: T)
Action to Take: CBAT is a long opportunity with a target of $1.60. A close above that level will indicate a much larger potential move and the buying we saw may be an indication of that expectation.