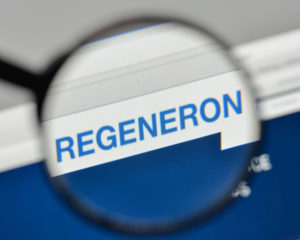 It's not a secret that many biotech companies are making hay as their share price is rising to new highs since COVID landed ashore the U.S. A quick scan of large cap companies will produce a number of these companies with Regeneron Pharmaceuticals Inc Stock (NASDAQ: REGN). While the amount of selling that's occurring may not always be an indication to short, it is a warning of the likely overvaluation and there's ways to take small risk trades with huge upside if they break.
Regeneron has earnings coming up on August 5 and analysts are expecting a $0.04 decline in earnings year-over-year. For many companies, the impact of COVID-19 is being felt, it's just disproportionate as to the impact on the share price. For example, REGN is up nearly 70% on the year. Part of the reason is that the market is looking forward with 10.3% earnings growth this year and 19.7% growth next year.
Since March 1, 2020, insiders have sold 23.7 million shares totaling $12.1 billion in 54 transactions. That's nearly four times the next-closest company which is Keurig Dr Pepper Inc (NYSE: KDP). With only 1.76% of the outstanding shares being held by insiders, the degree of ownership doesn't indicate much alignment with management and lessens the significance. However, the breadth of the insider sellers and the absence of any buying activity is a red flag.
Here are links to our latest insider trading reports.
Insider Finds His Price on Communications Company: AT&T Inc Stock (NYSE: T)
Buffett Buys More of this Bank: Bank of America Corp Stock (NYSE: BAC)
Action to Take: The stock is a potential short with a close below $600 with a $550 target.
Speculators may want to consider buying the 20 NOV 20 500/480 long put vertical spread for around $3.