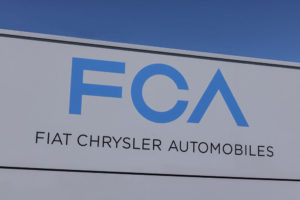 Fiat Chrysler Automobiles NV (NYSE: FCAU) announced a revision to the merger agreement with Peugeot SA. The agreement was a necessity for the company following the liquidity impact of COVID-19 policies. The company's desire was to preserve the economic value and balance of the original agreement. Investors appeared to like the deal as the price of FCAU shot up over 7% on Tuesday. However, just before the close there was a large option trade that happened in one print that suggests the move may be limited.
The revision to the merger deal still needs to be approved by the Stellantis Board and shareholders. The special dividend amounts to EUR 2.9 billion, which is a reduction from the previously planned EUR 5.5 billion. They are still hammering out other compensation that will be paid to shareholders of both companies or just to Stellantis shareholders.
The call option activity on Tuesday was over eight times the average. Nearly all of the volume occurred several minutes before the close as 100,000 contracts were traded in three prints. The activity was on the 15 JAN 21 $8.54 and $11.54 strike prices. In this trade 60,000 contracts were sold of the $11.54 call and two prints of 20,000 contracts were bought of the $8.54 calls.
Action to Take: The trade was a call ratio backspread that was entered at a debt. Since the trade was entered for a debit, the price is expected to stay in a range and has two breakeven prices at $10.01 and $14.59.
A trade with a bullish bias but can make money in either direction is a reversal of the backspread that was entered. The 18 DEC 20 12.50/15 can be bought for an $0.80 credit. In this trade one contract is sold at the $12.50 for every call that is bought at the $15. The trade has unlimited upside but makes $80 per contract if the price closes at or below $12.50 by expiration. The trade will need to move increasingly higher the longer its held.