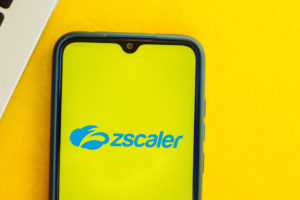 Zscaler Inc (NASDAQ: ZS) is a cloud security company that announced earnings on September 9 that comfortably beat analyst estimates but saw its share price decline on the announcement. As the price has been searching for support, a number of insider sale transactions have begun to pop up. The response to the report and the transactions occur as the company discussed scrapping their profitability goal for increased operating margins during their earnings call.
Zscaler is company that is experiencing phenomenal growth with a 3-year revenue growth rate of 40.1%. The company also has estimates revenue growth for 2021 and 2022 of 36.2% and 29%, respectively. The company has a history of beating analyst estimates by a wide margin because non-GAAP earnings that is slightly above zero. Following the company's most recent earnings report analysts have upgraded 2021 and 2022 EPS estimates slightly.
While this is certainly a good high-growth company, it is also a company that has participated in the selloff over the past two weeks and had its management decide to delay its goal of generating a GAAP profit.
It's with this backdrop that the insiders have started selling shares. Since September 11, there have been six different insider sale transactions totaling 216,826 shares and over $28 million in value. The sellers include the CEO, CFO, chief legal officer, a couple different presidents, and a director. The insider ownership of the company is all that high at 1.72%. Their institutional ownership is also not that high at 37.63%.
Action to Take: The indications from Zscaler is that the price may have a chance to go a little lower from its present price level. The insider selling is more of an indication that the price is overvalued than an outright short opportunity. If the price does move lower, it is a long opportunity with its growth expectations.