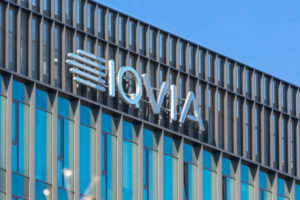 Iqvia Holdings Inc (NYSE: IQV) is a healthcare diagnostics and research company that recently announced a collaboration with AstaZeneca Plc to help speed up clinical studies potential COVID-19 vaccine as part of the U.S. government's Operation Warp Speed. One surface that sounds like good news and the price has performed well, however, one of the largest investors in the company just closed out their stake and history suggest they know when to sell.
The collaboration is significant as AstaZeneca is one of the drug makers that is furthest along in the process of developing a vaccine. Iqvia is brining its virtual trial solutions to the table as the vaccine is tested.
The seller is TPG Group and before their selling would have been the fifth-largest holder of shares by funds. Currently, insiders in the company own 5.44% of the shares outstanding with over 51% of the  shares held by institutions. The firm has been involved in the two largest transactions of 2020. The company reduced their holdings by over half on February 13, 2020 and then liquidated the rest of their position on July 28, 2020. As you consider the timing, it suggests that they feel the company is fairly valued at its current price.
Here are links to our latest insider trading reports.
CEO Buys Shares Ahead of Earnings: Franchise Group Inc Stock (NASDAQ: FRG)
Founder Adds Shares as Price Looks for Support: Kinder Morgan Inc Stock (NYSE: KMI)
Action to Take: The sale isn't exactly a signal to go short the stock, but does serve as an indication that the stock may be fairly valued near $160. As the price consolidates near the 52-week high, it may provide an opportunity to go short on a breakout below $155 or an opportunity to go long for a swing trade on a breakout above $166.