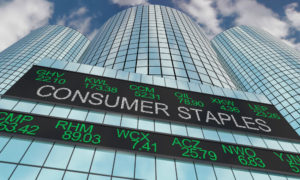 When the market normally sells off, the Consumer Staples sector typically outperforms the S&P 500. Thursday's performance reflected the same thing as the Consumer Staples Select Sector SPDR Fund (NYSEARCA: XLP) finished only 1.72% lower and the S&P 500 index finished 3.51% lower. While XLP outperformed on Thursday, this may not be the case in the coming months. Option bears came into XLP and are looking for significantly more downside by March.
The Consumer Staples sector has been performing similarly as the S&P 500 as the price of the sector continued to edge higher with the market. You can argue that the market as a whole is overvalued, but staples stocks are in a similar position as price is extreme and dividend yields are relatively low. The top holdings of XLP are companies like Proctor & Gamble, Walmart, Coca-Cola, PepsiCo Inc, Costco Wholesale and others. Except for beverage companies, the rest of the top holdings saw major reversal patterns on Thursday and are coming off 52-week highs.
Thursday's put option activity was over four times the average at over 38,000 contracts with 605 being filled at the ask price. Most of the activity occurred on the 19 MAR 21  $58 put with 32,239 contracts traded against 18 open interest.
Action to Take: the indication from the option activity is s potential move in XLP below $58 by the March expiration.
Speculators may want to consider buying a 19 MAR 20 62/58 long put vertical for around $1.00 or less.