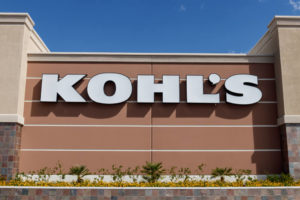 Normally, a selloff in the market would claim retail companies as one of its victims. However, the selling on Thursday and Friday of last week didn't have the same breadth of selling that the market experienced on June 11. On Friday, the option market bulls looked toward Kohl's Corporation (NYSE: KSS) as a surge in bullish option activity helped lift the stock price by 2.44%
Kohl's is joining a handful of other companies that are being added to the. S&P MidCap 400 index. The company is being replaced in the S&P 500 by Etsy Inc. (NASD:ETSY), Teradyne Inc. (NASD:TER), and Catalent Inc. (NYSE:CTLT). Kohl's is being joined in the S&P 400 by H&R Block Inc. (NYSE:HRB), Coty Inc. (NYSE:COTY), and Kohl's Corp. (NYSE:KSS).
On Friday, the call option activity was over 1.8 times the average. The call activity had 32% of the calls filled at the ask and 39% being filled between the market. The put option volume saw 60% of the volume occur at the bid price. Buying calls and selling puts are bullish option strategies. One trade of consequence was the 5,000 contracts bought on the 11 SEP 20 $23 calls.
Action to Take: With the call option contracts being traded falling close to the stock price, the expected movement isn't extreme. However, the short amount of time to expiration is an indication of the price expected to move higher by the end of next week with a breakeven near $23.60.
Option traders may want to consider buying the 18 SEP 20 22/23 long call vertical for $0.50 or less.