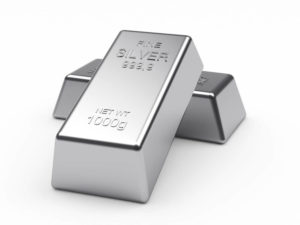 Silver has been deliberating following the meteoric ascent in its share price in July. As the U.S. dollar has slowed the bleeding, silver has seen its price form a symmetrical triangle. However, since Chairman Powell's Jackson Hole speech last Thursday, the price has started to rise again. Option traders on the iShares Silver Trust (NYSEARCA: SLV) are seeing the same things as several bullish option spreads were filled on the ETF today.
Silver is an interesting commodity since it is largely an industrial metal that is used in manufacturing processes. That means that the demand for the metal increases and decreases with the economic cycle. Because of this reality, silver has significantly underperformed gold in recent years. With the potential for a recovery, the printing by the Federal Reserve and the gold silver ratio normalizing, it has created a significant opportunity for silver in recent months. With the dollar weakening since Powell's Jackson Hole speech, the price has started to rise again.
On Monday, the options market activity began to pick up. There was an order for 15,000 contracts bought in one print on the 18 SEP 20 $33 call option. In addition, there was a 16 OCT 20 31.5/33.5 long call vertical that filled at market for 6,800 contracts. There was another 2,000-contract long call vertical placed on the 20 NOV 20 30/39 contracts.
Action to Take: The indication provided by the verticals is additional upside from the current price toward the $33.50 to $39 range in the coming months.
Speculators may want to consider trading the 20 NOV 20 30/39 long call vertical for around $1.10 or less.