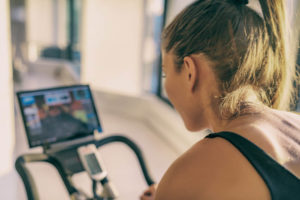 There are companies that have been seriously hurt by policies of the pandemic and there are companies that have benefited. With all of the gym closures, the transition to working out at home has lifted Peloton Interactive Inc (NASDAQ: PTON). The company has stationary bicycles but the focus in their upcoming earnings report on September 10 will be the state of their subscription services. While the stock has rallied significantly, the rally may not be over and option traders are starting to take notice.
Last week, Goldman Sachs brought attention to PTON with their analysis and the increase of the company's price target from $84 to $96. The analyst, Heath Terry, expects revenue to increase 182% from last year as his analysis suggest the company may add 208,000 subscribers against the company's guidance of 154,000 to 164,000.
On Friday, the call option volume was over 70% above average with over 50% getting filled between the market. One trade for 960 contracts got filled at the ask on the 18 SEP 20 $85 call for $4.00. That's a $384,000 trade that breaks even if the price reaches $89 in the next 20 days. The 11 SEP 20 $80 strike price traded over 4,000 contracts against an open interest of 1,985.
Action to Take: The current expected move for the 11 SEP 20 expiration is +/- $12.80. The analyst estimates and Friday's option trading is indicating a bullish move into and through the earnings.
Speculators may want to consider buying the 16 OCT 20 80/85 long call vertical for $1.55.