Tesla (Nasdaq: TSLA) recently announced that it would sell about $2 billion in stock and bonds to help fund its operations after a worse than expected first quarter.
Regulatory filings show Tesla plans to raise between $2 billion and $2.3 billion, consisting of $1.35 billion to $1.55 billion in five-year convertible senior notes (debt with a low interest rate of 1.5%-2% that can be converted to stock if the share price rises roughly 30%), plus $650 million to $750 million of common stock.
There is little chance of failure since the deal is being managed by Goldman Sachs, Citigroup, Morgan Stanley, Bank of America Merrill Lynch, and Deutsche Bank. These firms have access to deep pocketed investors around the world.
It's the first time in two years that Tesla has sold securities to raise money and the news comes after the company's CEO Elon Musk, according to The New York Times, "had said for months that Tesla did not need to raise new capital.
It's necessary because Tesla hasn't sold enough cars to cover its operating costs. Sales of the Model 3 tumbled in the first quarter, and the company used over 40 percent of its available cash during that quarter.
The timing is questionable. "It probably would have made more financial sense when Tesla's stock price was a lot higher," Peter Eavis of the NYT writes. Tesla's stock is down a third from its 2018 peak, so it has to sell more shares to raise money — diluting the investments of existing shareholders.
Shares in Tesla jumped 4.3 percent after the announcement.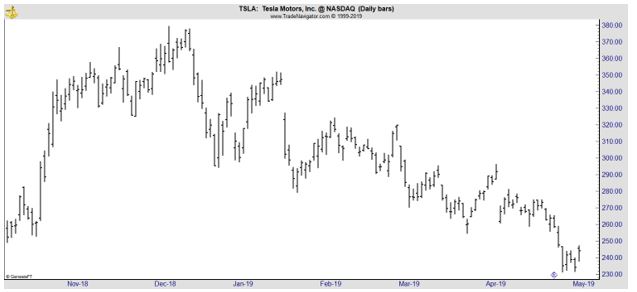 But some analysts question the market's reaction.
"This is an upside-down reaction," the research analyst Joseph Osha told the WSJ. "But it tells you the issue of liquidity has been on people's minds, and this capital raise puts that issue to bed."
But is it actually enough? Mr. Eavis writes that the sale should cover the production of current models, but not the funding of new vehicles. More production delays could deplete cash, forcing Tesla to go back to the markets again and giving rivals time to eat into its market share."
Musk Faces Some Challenges
One reason the company could be raising cash is simply because Musk can no longer fund the company without turning to the public markets he seems to dislike. Investors might recall his earlier attempt to take the company private.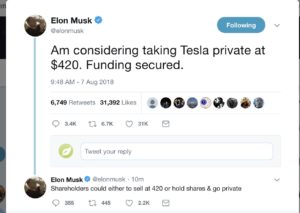 Source: CNBC
That was the beginning of significant problems for Musk which seems to have finally been settled with the Securities and Exchange Commission after the SEC agreed to a settlement that restricts Musk's ability to tweet.
Musk also might be short on cash, according to a report from Bloomberg that noted, "While Musk has a $21 billion personal fortune that ranks him No. 43 on the Bloomberg Billionaires Index, he's relatively cash poor.
More than half of that is from his stake in rocket company Space Exploration Technologies Corp., or SpaceX, and Musk has said he has no plans to sell any shares.
The Tesla CEO has likewise long sought to maintain the size of his stake in the carmaker. Pledging shares is a way to monetize certain investments without having to reduce those holdings. The $507 million in loans are secured by pledges of Tesla's common stock, according to the filing.
Tesla's proxy statement shows Musk has pledged about 13 million of his Tesla shares, which represent about 40 percent of his holdings. Those pledged shares have a value of about $4 billion at today's share price, suggesting he may have scope to take out more loans.
Still, the latest share sale will dilute Musk's stake in Tesla. The filing notes he has indicated his preliminary interest in purchasing about $10 million worth of Tesla shares in the equity offering — up to 41,896 shares. But Musk would need to buy about a fifth of the 2.7 million new shares being offered to avoid being diluted.
The billionaire's personal credit lines from affiliates of Morgan Stanley, Goldman Sachs and Bank of America totaled $507 million as of April 30. That's a $117 million drop from the $624 million as of February 2017, the last time Tesla disclosed the figures.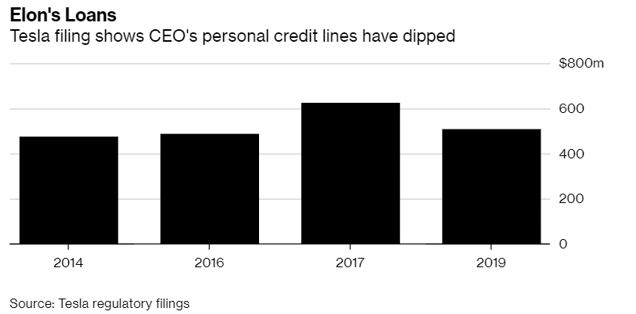 Source: Bloomberg
Skeptics Abound
Former hedge fund manager Whitney Tilson has been a bear on Tesla for some time and noted,
"Although shareholders are being meaningfully diluted, raising so much new cash is undeniably good news for Tesla as it staves off financial distress for a while, giving the company some breathing room to try to roll out new products and fix its many problems.
We are now more than a month into the second quarter and evidence continues to mount that demand for Tesla's cars has fallen off a cliff, which will cause the company to miss its second-quarter guidance of delivering 90,000-100,000 cars by a mile.
The latest evidence is in yesterday's EV Sales Scorecard by InsideEVs. It estimates that Tesla delivered fewer than 12,000 cars in the U.S. in April (10,050 Model 3s, 825 Model Ss, and 1,050 Model Xs). These numbers are approximately in line with the views of most of the bears. Combine this with deliveries in Europe, and it's even worse.
I am not at all surprised by this capital raise. On Monday, I wrote to one of my friends who argued that Tesla would only be able to raise money on distressed terms that would crash the stock:
I disagree. There's a TON of really stupid money out there – and Musk is a skilled showman and pathological liar… and he's desperate…
My experience is that, in a complacent market, the first round of financing in a situation like this is that some dumb money comes in on good terms for the company and the stock pops.
But then the fundamentals continue to deteriorate and the dumb money is wiped out. Only THEN is there a true distressed round that crushes the stock.
It reminds me of TPG's $7 billion investment in WaMu in the early stages of the financial crisis. It was entirely wiped out within five months in what has been called The Worst Deal in Private Equity History."
This opinion shows the extreme opinions on Tesla and demonstrate the need for investors to proceed with caution on this stock.