The 5G boom is here. Cowen & Co. analysts say it's a "revolution."
Others say 5G could usher in a $12 trillion market opportunity.
President Trump tweeted, "I want 5G, and even 6G technology in the United States as soon as possible.  It is far more powerful, faster, and smarter than the current standard."
Not only will it have an unrivaled impact on society, it'll impact healthcare and transportation to defense, banking, you name it. Even cash flowing into the opportunity is staggering. The U.S. committed up to $400 million to 5G over the last three years.
Shocking Video Reveals The Near-Perfect Trading Strategy

Insiders at JPMorgan have come as close as humanly possible to a 100% trading record. Official documents show a 99.52% win rate for 6 years - with 3 years of ZERO down days. New research lets you "shadow" their trading desk and their awesome performance.
China will invest up to $400 billion on 5G by 2025 with 430 million users. South Korea invested $1.5 billion in the technology. Germany is in for $100 billion.
President Trump is so enamored with the technology he tweeted:
"I want 5G, and even 6G, technology in the United States as soon as possible. It is far more powerful, faster, and smarter than the current standard. American companies just step up their efforts, or get left behind. There is no reason that we should be lagging behind on something that is so obviously the future," he noted.
"I want the United States to win through competition, not by blocking out currently more advanced technologies. We must always be the leader in everything we do, especially when it comes to the very exciting world of technology!"
That comes just a few months after the President directed the U.S. Commerce Department to develop a comprehensive national spectrum strategy to help user in 5G wireless networks.
The President simply wants the U.S. to crush other countries, most notably China, when it comes to commercializing 5G services. That alone is bullish for 5G stocks.
But Just What is 5G Technology?
1G allowed us to walk and talk at the same time.
2G allowed us to walk, talk and send texts.
3G allowed us to do all of that, and use the Internet.
4G allowed gave us all of those options and allowed us to stream. Unfortunately, by today's standards, 4G is too slow. In fact, it "only" has a download speed of 100 megabits per second.
Meanwhile, 5G can process up to 10,000 megabits per second.
Such speeds will help usher in the Internet of Things (IoT), interactive television, social gaming, virtual reality (VR), augmented reality (AR), robotics, automated vehicles, healthcare imaging and diagnostics just to name a few. 5G will help eliminate slow connection speeds, and help connect many, many devices that share large amounts of data in real time.
As 5G starts to roll out, it can help make smartphones smarter, for example.
In fact, it'll help usher in new experiences such as virtual and augmented reality with quicker speeds and lower latency. It can help speed up "mission critical" communications with infrastructure, vehicles, and even medical procedures.
It can also help pave the way for the internet of things, connecting millions of devices.
However, this is just the start, as 5G begins to shift the world as we know it. With governments, and corporations leading the charge, the 5G could be one of the most explosive.
The 5G Story could Create Unimaginable Opportunity
By 2035, about $12.3 trillion worth of goods and services will be enabled by 5G networks, and the rollout will add approximately $3 trillion to the worldwide GDP.
In short, 5G is creating a sizable opportunity for those investing right now – at ground level.
For an idea of the potential profits 5G can create, consider this.
When 3G networks hit in 1998, it forced stocks like Qualcomm (QCOM) from $2 to $67.
When 4G hit in 2008, stocks like Crown Castle (CCI) jumped more than 540%. American Tower Corporation (AMT) exploded from nearly $30 to more than $178 today.
Now, as 5G makes its way onto the global stage, we could see similar results with related stocks.
The Top 5G Technology Companies for 2019
Qualcomm (QCOM)
One of the most intriguing catalysts for QCOM is Apple and 5G.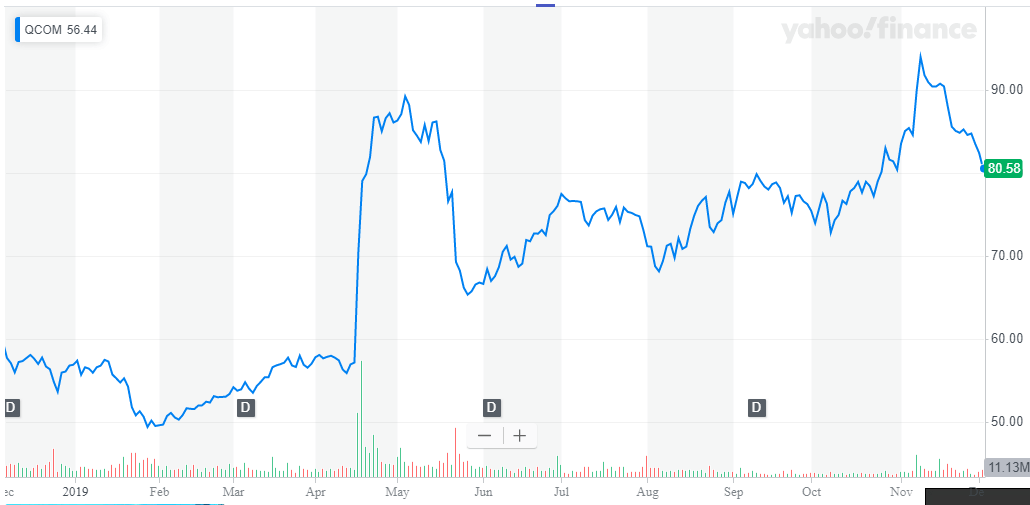 In fact, after Apple announced a settlement in early 2019, ending two years of litigation, Qualcomm will more than likely provide 5G modems for the coming 5G iPhones.
In addition, what makes QCOM a game-changing company is its ownership of Code Division Multiple Access [CDMA] – the very technology that underpins wireless networks that allow you cell phones to send and receive data. At the moment, QCOM derives a chunk of revenue from a monopoly on 3G and 4G networks.
Better, the company just announced that it is expanding 5G capability across its entire family of Snapdragon 8, 7 and 6 series mobile platforms for smartphones and other devices.
Qualcomm is a "Strong Buy" with a "low" risk level.
Marvell Technology (MRVL)
While Qualcomm is a leading stock to own on the story, so is Marvell Technology.
"Our design win momentum continues in 5G, and we recently announced a significant long-term partnership with Samsung to deliver multiple generations of embedded processors and baseband processors for both LTE and 5G base stations. We expect shipments of our 5G products to start to ramp toward the end of the fiscal year 2020 and continue to grow rapidly into fiscal 2021 and beyond," said company CEO Matthew Murphy.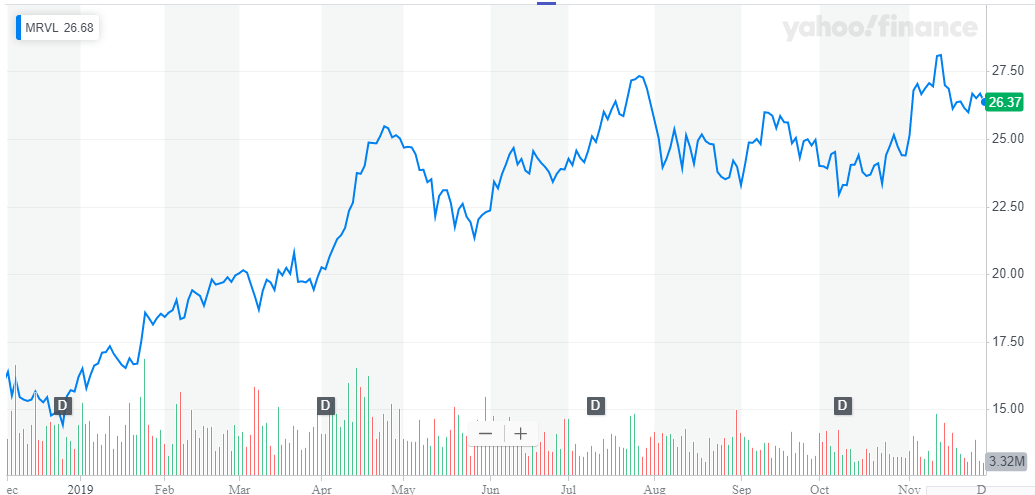 The stock was also just upgraded to outperform from market perform at Wells Fargo. The price target was also increased to $32 from $25.
Analysts noted, "MRVL should continue to experience robust 5G base station-related sales to Nokia and Samsung for the balance of 2019 and into 2020."
Marvell Technology is a "Strong Buy" with a "low" risk level.
American Tower Corporation (AMT)
5G has been an explosive opportunity for AMT, as it the REIT leases multi-tenant cell tower sites to communications companies. And so far, so good. The stock has seen quite a ride, as one of the most explosive 5G opportunities on the market.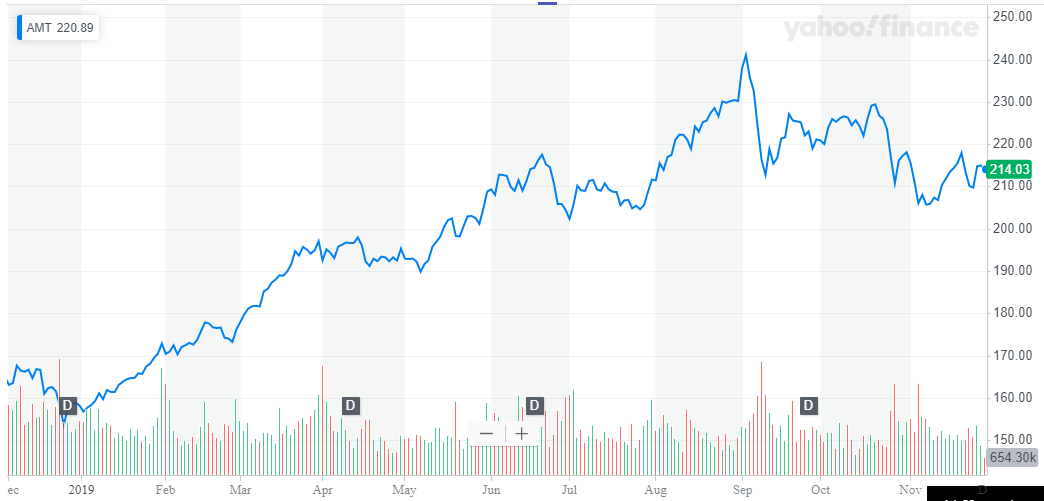 In recent months, AMT has pulled back creating another big opportunity.
When 4G was first introduced, about 200,000 cell towers were built to broadcast the signal, which was great news for American Tower Corporation. Today, 5G will require another 300,000 towers, which is a sizable catalyst for the stock.
"Tower companies lease the space on their structures to several tenants like wireless carriers and government agencies. The move toward 5G will require dramatically denser networks, which means more demand for cell towers and massive deployments of smaller cell solutions," as reported by Money Show.
American Tower Corporation is a "Strong Buy" with a "low" risk level.
Micron Technology (MU)
Micron Technology Inc. develops the hardware used in manufacturing both semiconductors and computers worldwide. It's been involved, in making plans for the 5G boom for some time, already developing a multi-chip package for use in 5G modems.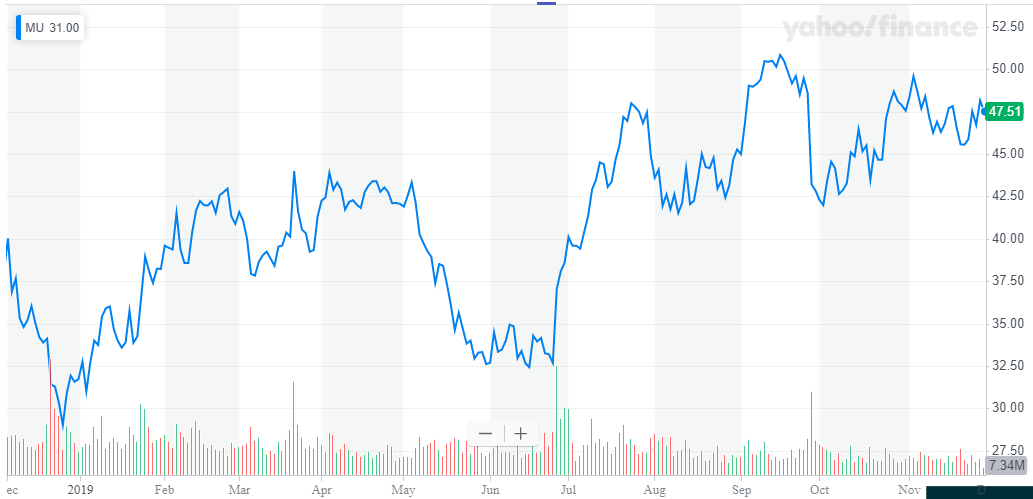 In fact, it'll help provide modems with the capability to run as much as 20 times faster than current modems. And Micron products will be used in every sector that uses 5G.
5G will bring massive improvement in data speeds, and data centers will have to be upgraded to handle the increased bandwidth. This is because 5G will need a frequency spectrum between 28 and 39 gigahertz. Therefore, 5G networks will require 100 times more resources than a 4G network, for example, which also means that they'll need more storage.
As a result, demand for Micron's memory chips could increase substantially.
Better yet, earlier this year, Micron and Qualcomm announced a partnerships to develop 5G enabled autonomous driving platforms.
Micron Technology is a "Strong Buy" with a "medium" risk level.
Ceragon Networks (NASDAQ:CRNT)
Small cap stocks, like Ceragon Networks Ltd are likely to benefit, too.
CRNT provides wireless backhaul solutions that enable cellular operators and other wireless service providers to deliver voice and data services worldwide. Its wireless backhaul solutions use microwave radio technology to transfer telecommunication traffic between base stations, small sells, and the core of the service provider's network.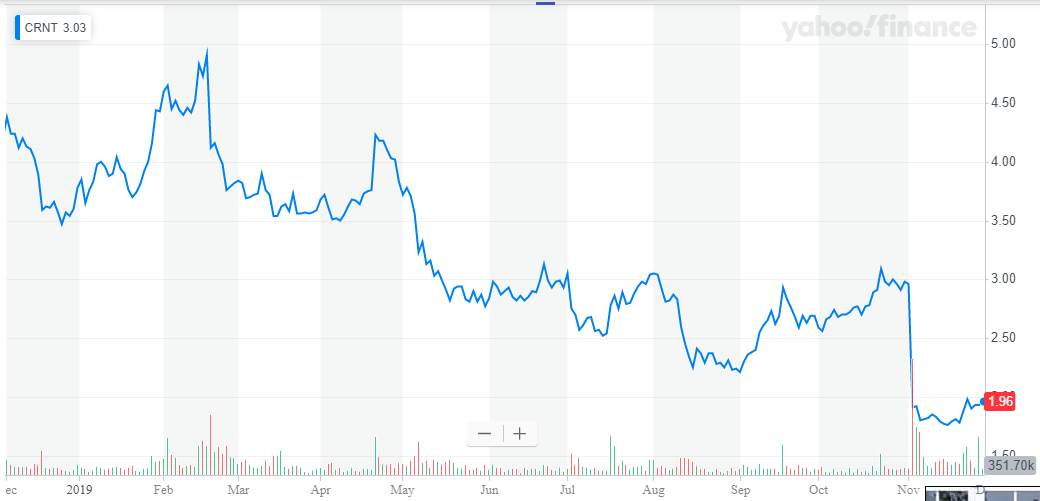 The best part – some of the world's leading telecom companies – Verizon, Sprint, AT&T—want what CRNT is offering. Analysts believe this is one of the "best of the best" 5G stocks to own, as it provides inexpensive, efficient 5G products and services.
Analysts seem bullish on CRNT, too.
Not too long ago, analysts at Oppenheimer upgraded the stock noting that, "Ceragon's steady execution, IP-20 tech. differentiation (spectrum efficiency, carrier aggregation, TCO advantages), and all-outdoor leadership" all make the stock a likely candidate to profit from "the upcoming 5G build-out."