Apple has been in the headlines lately, but close readers of the news may have noticed Netflix (Nasdaq: NFLX) is also capturing attention. One reason is related to the important question of censorship by tech companies.
The Associated Press noted, "Netflix faced criticism…from human rights groups for pulling an episode in Saudi Arabia of comedian Hasan Minhaj's "Patriot Act" series that criticized the kingdom's powerful crown prince.
The American comedian used his second episode, released Oct. 28, to criticize Crown Prince Mohammed bin Salman over the killing of writer Jamal Khashoggi and the Saudi-led coalition at war in Yemen.
Human rights group Amnesty International said Saudi Arabia's censorship of Netflix is "further proof of a relentless crackdown on freedom of expression." PEN America, the literary and human rights organization, said the move "legitimizes repression." Netflix said it was simply complying with a local law."
This could affect the stock price as it creates tension between the creative side of the company and the financial side at a time when the financial side of the business is at a potentially critical crossroad.
A New Addition to the Team Could Address an Existential Problem
Netflix recently hired Spencer Neumann as chief financial officer, two days after he was fired as CFO at Activision Blizzard.
Activision Blizzard said Monday the firing was unrelated to the company's financial performance. Early reports of Neumann's new role circulated just hours later. A person familiar with the transition told CNBC that Neumann's termination was the result of his pursuing another job.
According to the business news network, "the role is increasingly important at Netflix. The company is burning cash at faster and faster rates as it ups investment in original movies and TV shows."
The cash burn is related to the company's decision to generate content.
"In its third quarter earnings statement…the company reported negative free cash flow of $859 million, the biggest figure in its history.
Netflix continues to increase spending on original content as it seeks to compete with other players like Hulu, HBO and planned streaming services like Disney's, scheduled for next year. Netflix will reportedly spend at least $8 billion on content in 2018.
Investors continue to reward rather than punish Netflix for its free-spending ways, banking that spending to build a library of exclusive original content will help it fend off new contenders in streaming video."
For a time, the cash burn did not seem to concern traders.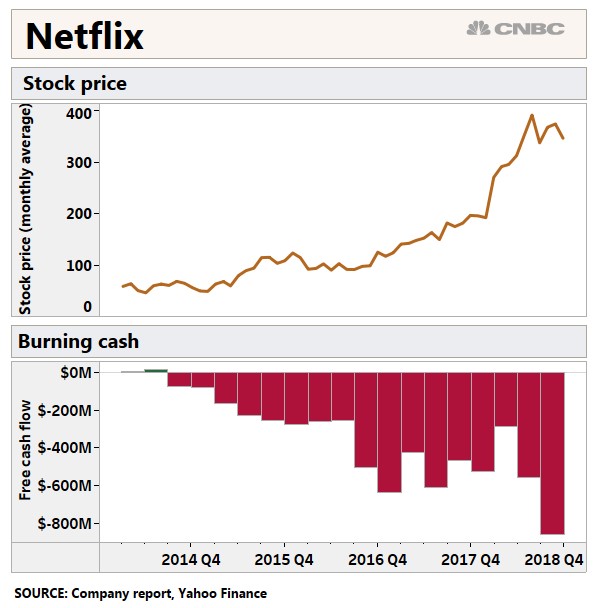 Source: CNBC.com
A Long Term Winner Hit a Snag
NFLX was one of the best performers in the bull market. From the beginning of the bull in March 2009, the stock gained more than 8,900%. That growth was driven by the company's growth in subscribers.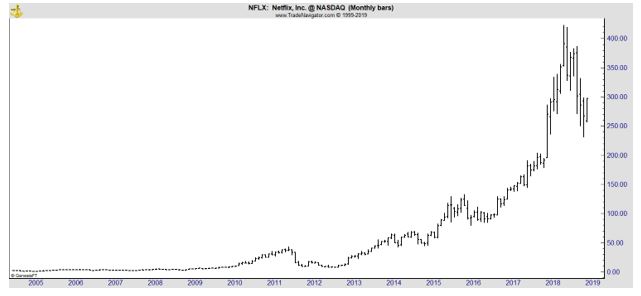 The stock peaked in June 2018 as investors seemed to question how long the growth in subscribers could justify the stock's premium valuation. While revenue increased from $3.2 billion in 2011 to $14.9 billion in the past twelve months, earnings didn't keep pace.
Earnings per share (EPS) did grow from $0.61 to $2.90 over that time. But that left stock trading with a price-to-earnings (P/E) ratio of more than 200. Analysts do expect EPS growth to average more than 61% a year in the next five years so a premium valuation is merited.
Analysts expect the company to report EPS of $4.17 in 2019 and $6.87 in 2020. The new CFO could help the company reduce expenses and improved operating margins could boost EPS by at least a small amount. That could make earnings surprises positive in the future.
These earnings do indicate the stock could be worth the high price that it trades at. The stock has traded with a triple digit P/E ratio for most of the past seven years. A P/E ratio of 45, high but not completely unjustified for a company growing EPS at more than 60% a year, the stock could worth more than $300.
Additional growth could deliver gains for long term investors.
Short Term Traders Should Also Consider NFLX
In the past five years, NFLX has exceeded analysts' expectations by an average of 9.6% a quarter. In the most recent quarter, the company expectations by more than 30%. Traders have rewarded share holders with an average gain of 4% in the week after the earnings announcements.
This indicates traders could find the stock attractive. Earnings are due the middle of January and the stock recently completed a buy signal on the stochastics indicator which is shown at the bottom of the chart below.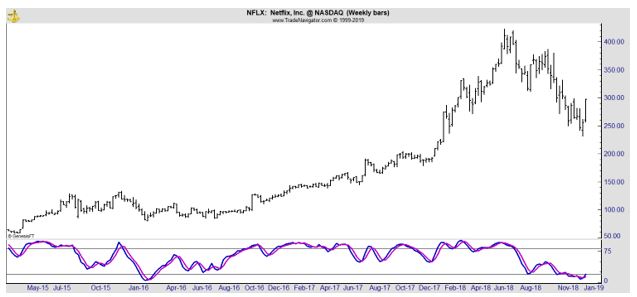 This is a weekly chart and signals tend to be longer than those given on daily charts. The signal could carry through the earnings announcement.
From a technical perspective, a conservative price target is about $350, more than 15% above the recent price. Call options could be more attractive to risk averse traders since the calls would carry a defined level of risk.
When buying an option, the trader can never lose more than they pay to enter the trade. When owning the stock, the trader could lose more than that, even with a stop loss order since prices can and often do fall quickly. This is especially true in volatile stocks.
NFLX does hold promise for long term investors and short term traders. But there is risk in all time frames.
While NFLX is a promising stock, there is a great deal of risk involved in the trade and many individuals discover that they are not able to complete the required amount of research to time buys and sells because that can take an extended amount of time and they have other personal and professional commitments competing for their time.
The TradingTips.com service, PPK System, is designed to exploit patterns associated with market clues by looking for value and momentum in stocks and could spot the potential winners based on a variety of factors.
This combination of value and momentum has been shown by many researchers to be the cornerstone of strategies that beat the market in the long run. The PPK System follows strict rules for buying and selling. You can learn more about this trading service by clicking here.