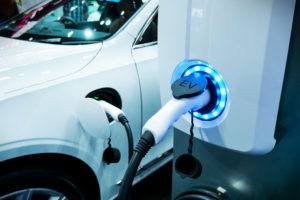 J.P. Morgan just updated an electric vehicle company. Not only that, but the investment bank gave a price target more than double where shares were trading at the time. That's a bullish call, and a justified one.
That's because the bank expects the electric vehicle market to continue growing substantially, possibly as much as four times higher in some markets. And, no, the company isn't Tesla Motors.
The company is NIO (NIO), the Chinese play. Although the company isn't profitable yet and shares trade at a big multiple of sales relative to other automakers, it could be a big winner in the Chinese market in the years ahead. As much as 20 percent of vehicle sales in China could be EVs by 2025.
Action to take: For traders who missed out on the big move in Tesla, NIO offers an attractive alternative. Add in the growth in China for electric vehicles, and this could be a solid winner in the years ahead.
Shares of NIO spiked 20 percent higher on the upgrade, so traders may want to hold off until one of the company's pullbacks. But the January 2022 $35 calls, currently trading for around $7.15, are the cheapest way to play on this long-term trend in shares.
It's the option the farthest out (for now) with the highest strike price (for now). And it would move in-the-money if shares hit the latest price target.