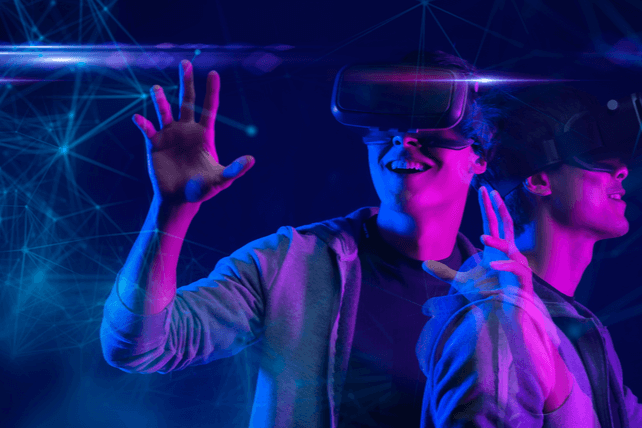 The metaverse is coming. A combination of virtual reality software and augmented reality hardware, the metaverse will create a second world of interconnected experiences that changes the way people live and work.
While early versions will have their kinks, if successful, the metaverse could represent a massive investment opportunity as well as societal change. Much like investing in social media at an early stage, companies large and small alike are getting in on the multiverse trend.
We've identified the top 5 players that are pushing into the space. No doubt there are dozens of other companies of all sizes making strides as well, even if they may not have publicly commented on those plans.
This Company's Share Price has Increased 1650% Since 2016.

Traditional pharmacies can be a headache. That's why NowRx has rebuilt the retail pharmacy experience to be more convenient, personalized, and hassle-free for customers – and their potential is growing quickly.

This year, the company is on pace to surpass $22M in revenue and with their newest telehealth product growing 73% MoM, the time to invest has never been better!

Did we mention that retail pharmacy is a $480B industry? You're going to want a piece of that.

Check out NowRx for yourself and explore the investment opportunity today.
While these top players are already large firms in their own right, the growth of the metaverse should continue to increase revenues and profits for years to come. That makes these players worth buying and holding as the metaverse shifts from the world of science fiction to the real world.
Metaverse Stock #1: Meta Platforms (FB, MVRS starting December 1)
The parent company of Facebook has already rebranded the company name, and will sport a new ticker symbol starting December 1.
That's a big shift in how the company is structured, although it's still keeping the name Facebook for its current social media platform.
CEO and Founder Mark Zuckerberg has long been an advocate of using the latest technologies to develop a metaverse. It's a perfect evolution from the social media platform in terms of keeping users engaged.
The more and longer users are engaged in the same space, the more valuable that network is for advertisers. That's why Facebook's success as a business didn't start until after it was a series of college-aged kids making profiles, and rather the general population.
That trend will likely hold true with the metaverse as well. Facebook has already demonstrated it knows how to create software that will keep users engaged. And its 2014 acquisition of Oculus gives the company the hardware needed to create a virtual reality program.
The company dropped $2 billion to buy Oculus in 2014. And, for the moment, that acquisition hasn't been as successful as some other buys made by Facebook, such as Instagram.
However, the metaverse could change that. As Meta Platforms describes it:
"The metaverse will feel like a hybrid of today's online social experiences, sometimes expanded into three dimensions or projected into the physical world. It will let you share immersive experiences with other people even when you can't be together — and do things together you couldn't do in the physical world. It's the next evolution in a long line of social technologies, and it's ushering in a new chapter for our company."
Proposed uses for the metaverse include gaming, entertainment, work, education, fitness, and commerce.
All in all, Meta Platforms has made it clear they're in the space to dominate it.
That could make shares of Meta Platforms even more valuable. Since announcing the metaverse in September, shares have pulled back a bit. The stock has now returned just half that of the S&P 500 in the past year, up about 15 percent.
Analysts are still digesting the metaverse. It's a new trend and will take some time to unpack. More importantly in the short-term, it will cost billions to develop and roll out, which could hurt short-term profitability.
However, that's not a problem for Meta Platforms, as its subsidiary Facebook is the dominant social media. The company earns over $112 billion per year in revenue, and saw a 35 percent jump during the pandemic. And the firm has a profit margin of nearly 36 percent.
Those numbers can likely continue to improve even as the firm invests in creating a metaverse. And should the company dominate there as it has with social media, then the value of the overall company will likely be worth far more.
Currently, shares have a market cap of about $920 billion. The rollout of the metaverse could push that over the $1 trillion mark, and growing revenues in that entirely new space would lead to an even bigger valuation in the future.
With Meta Platforms already a massively profitable company, and set to grow with an entirely new ecosystem, it's clear that shares are worth buying here to play this trend.
Metaverse Stock #2: Microsoft (MSFT)
The big tech company has entered the metaverse space with a corporate spin on how the space should look. The company is building out its niche of the metaverse with its Teams division.
Looking to launch in early 2022, this version of the metaverse would create virtual spaces with 3D avatars.
The virtual world will combine many of today's key remote-work technologies, like file sharing features and chat and conferencing programs. Some may not like the idea of looking at Excel files or PowerPoint slides on a 2D computer screen, but with augmented reality, these files can now take on a third dimension.
As company CEO Satya Nadella states, "This pandemic has made the commercial use cases much more mainstream, even though sometimes the consumer stuff feels like science fiction."
While the initial rollout for Microsoft will be in its Teams division, the company has an entire ecosystem of tech products that could easily adjust to a metaverse.
Besides the use of Office docs, Microsoft owns LinkedIn, the dominant social media firm with a business focus. Shifting that to the metaverse could create new opportunities to profit and change the way business meetings and networking events occur.
Or the metaverse could be used to create a virtual gaming lobby for those who use the company's X-Box gaming console, and otherwise interact with other players around the globe.
The company even owns its own augmented reality device, HoloLens. And the company has already created a software platform, Mesh, to combine augmented and virtual reality programs across a variety of VR goggle sets.
All in all, Microsoft could be a quiet winner in the metaverse, adding to its leading portfolio of tech platforms and brands.
The company is already neck-and-neck with Apple (AAPL) as the most valuable company in the US, with a market cap of nearly $2.5 trillion.
Shares are up nearly 50 percent in the past year, on the back of a 48 percent rise in earnings. And the company saw a 39 percent profit margin.
The new opportunities from the metaverse rollout could continue to add to earnings and revenues for years to come. With a balance sheet holding over $130 billion, Microsoft can continue to invest in further metaverse plays well into the future, including the strategic acquisition of smaller players who could have a dominating niche in some part of the metaverse.
That makes shares look attractive as a metaverse play, even as they trade at all-time highs. And investors who buy now can lock in a company with a low but growing dividend payment starting at 0.75 percent.
Metaverse Stock #3: Nvidia (NVDA)
Best known as a manufacturer of graphics processing units (GPUs), Nvidia has been one of the best performing stocks of the past 10 years.
That's because GPUs have become the backbone of today's graphics-intensive video games.
The company is also touted for its potential for cryptocurrency mining, although its products aren't specifically made for that application.
In any event, the stock's outperformance trend is likely to continue for a variety of reasons, including its potential role in the metaverse.
Just in the past week, the company announced that it is creating Omniverse Enterprise, an enterprise metaverse application division. That moves the company beyond hardware and into software, specifically software to help integrate metaverse components.
Even better, software provides the company with a chance at earning recurring revenue. Many software companies have learned that they can generate better cash flows by essentially "renting" out their software on a monthly or quarterly basis, rather than make one sale and hope that customers buy every upgrade after that.
For customers, recurring revenue means ongoing technical support, and continual upgrades rather than waiting for a fix in the next version of the software potentially years down the line. It's a win-win business model in the tech space.
The announcement of Nvidia's Omniverse Enterprise sent shares to a new all-time high, and made it the 7th most valuable company on US markets. The stock has continued higher on the back of analyst upgrades to shares following the news as well.
According to Wells Fargo (WFC) analyst Arron Rakers:
"We see Nvidia Omniverse as a key enabler/platform for the development of the metaverse across a wide range of vertical apps — industrial, manufacturing, design & engineering, autonomous vehicles/robotics, etc. Nvidia Omniverse Enterprise represents a significant platform expansion strategy for Nvidia, which also entails a deepening recurring software story."
The company's core business of GPUs has been fantastic for shareholders, with returns of 105 percent in the past year.
The stock is not a value investor's dream, with shares going for 55 times forward earnings. However, the earnings ratio looks somewhat cheap given a 282 percent rise in earnings in the past year, and a 68 percent increase in revenue.
Buyer beware: This is a company that has steep pullbacks when the market has one of its mini-corrections. This will be a volatile stock to own. But the reward for stomaching that volatility is huge excess returns.
With those caveats aside, Nivida is positioning itself to be the key hardware AND software player for the metaverse. It doesn't matter if that's on a platform created by Microsoft or Meta Platforms or one of the other players in the space.
Buying the key supplier to an industry tends to lead to great returns, especially when that industry is in the high growth phase. We're still not at that point yet with the metaverse, but by the time we are, shares of Nvidia will likely trade far higher.
Metaverse Stock #4: Coinbase (COIN)
The metaverse proposes to be more than just an immersive, 3D version of web browsing. It has the potential to become a virtual world. With that comes commerce. Using cash or even a credit card for purchases in the metaverse look unlikely.
What does look likely is the use of cryptocurrencies. Combining digital cryptography with a store of value, the metaverse's economy will run on crypto.
The good news? That's an area where investors can buy today. Given how cryptocurrencies have performed, cryptos bought today should have more value by the time the metaverse is open for business.
Of course, investors don't have to simply buy cryptocurrencies to play this trend. Instead, they can buy shares of a cryptocurrency exchange. The biggest broker is the one most likely to benefit: Coinbase (COIN).
As a broker, Coinbase facilities the buying and selling of cryptocurrencies. They offer a growing number of cryptos. While they may not have every crypto, particularly some of the more popular ones among retail investors, they do have a big exposure to corporations and funds buying cryptos.
This institutional level of interest is key for the company's success. The past year has seen a number of companies start to invest some of their cash in crypto. One country has even made Bitcoin legal tender. The trend is still in its early stages.
It's likely that Coinbase will continue to increase in value as an easy way for anyone to gain access to the currency of the metaverse. The crypto universe is even moving beyond currencies and into NFTs, or non-fungible tokens.
While early NFTs sound like pixelated art mysteriously trading for as much as millions of dollars, NFTs can create another store of value in the digital realm.
Coinbase has recently announced plans to build out an NFT platform, likely an early hint that they'll want to ensure they're a key part of the metaverse infrastructure as well.
Shares went public earlier in the year, dropped, and are now getting back to their IPO price. Unlike many companies that go public while still unprofitable, Coinbase has been posting some unbelievable growth numbers.
Revenues are up 4,879 percent in the past year. Revenue is up nearly 1,100 percent. And the company has a fat 54 percent profit margin.
With shares still $100 under their IPO day peak price of $430, they look like a bargain. Yes, in time the growth will slow. But cryptocurrency adoption is still in its early stages.
The company is still growing rapidly, so investors likely won't get a dividend here for some time. By the time one is in the offering, it may not be in US dollars, but rather in a crypto or NFT form, making this an interesting investment in the future of both crypto and the metaverse.
Metaverse Stock #5: Roblox (RBLX)
If there's a company that's already built out a prototype metaverse, it's gaming company Roblox (RBLX).  The digital platform allows users to program games that others can then play.
This allows developers to learn how to code and make games via the open-source language Lua.
This creates what the company calls a co-experience, which will be at the center of the metaverse world as well.
The company is already looking to move beyond its gaming roots. The company could create more opportunities to create virtual experiences for users. With a platform that's heavily used by younger gamers, it could even create a successful family-friendly niche in the metaverse to compete with other offerings.
According to Chief Product Officer Manuel Bronstein:
"Roblox's vision for the metaverse is to create a platform for immersive co-experiences, where people can come together within millions of 3D experiences to learn, work, play, create, and socialize. Fostering a rich community built on shared experiences is central to this vision and a driving force for Roblox's path forward. As we build an engaging and civil community where people form real connections, we are envisioning the future of communication both in the metaverse and beyond."
Right now, Roblox offers a base version of the platform for free. They're working to build out in-game monetization streams that will allow developers on the platform to earn money sooner. Users can make micro-payments using the company's Robux currency to buy in-game accessories such as special skins, avatars, or even VIP servers.
Roblox is another company that went public earlier in 2021. Shares initially soared as high as $104, before coming back down to around the $80 range today.
With daily active users growing about 29 percent year-over-year to 43.2 million, it's clear the platform has more room to expand, and already has a user base primed for a metaverse experience. That will translate into higher revenues, earnings, and a higher share price in time.
The challenge? The company is losing money in the short-term. That's similar to the challenge that Facebook had to contend with when it first went public. If Roblox can take a page from that playbook and move towards increasing revenue, shares will likely soar higher.
There's also a good chance that Roblox, with its $48 billion valuation, could be a buyout target from one of the mega-players in tech. That could create a quick return for shareholders of Roblox. Given the company's size at present, it's more likely that Roblox will remain independent. But even an offer could give investors an indication of how the company is moving along with its multiverse plans.
Disclosure: The author of this article has positions in Nvidia and Coinbase, and intends to further own/trade the companies mentioned here after the next 72 hours. The author receives no compensation from any of the companies mentioned in this article.