Twitter (NYSE: TWTR) has a market cap of more than $22 billion and is an important company. As one commentator recently noted, "Twitter makes and breaks careers. It makes and breaks lives. Perhaps most saliently, the platform shapes news cycles, which, in turn, shape how people see the world.
Because journalists spend disproportionate time on the website relative to most of their audience, outlets increasingly amplify Twitter's viral stories, and seemingly without questioning their broader relevance. It's a pattern that distorts perception on both sides of the political spectrum, and everywhere in between."
But is also a volatile stock and the company recently sold off after an earnings announcement.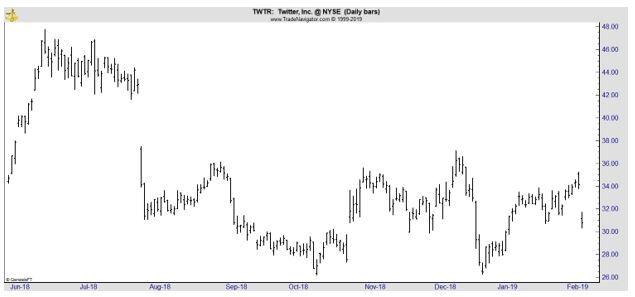 Earnings Create Volatility
In its latest earnings report, CNBC reported that the company "reported fourth-quarter earnings and revenue that beat estimates, but the stock slid 9.8 percent Thursday after the company provided light guidance and said it expected expenses will increase 20 percent this year.
Monthly active users data met analyst expectations, but the company said it's changing the way it reports active users on the service.
Special:
The Time to Invest in 5G Is NOW!
Here's what Twitter reported:
Earnings per share: adjusted 31 cents vs. 25 cents expected in a Refinitiv survey of analysts
Revenue: $909 million vs. $868.1 million expected in the survey
Monthly active users (MAUs), excluding SMS users: 321 million vs. 321 million expected in a FactSet consensus
Twitter's outlook for Q1 2019 revenue fell within analyst expectations, anticipating $715 million to $775 million compared with analyst estimates of $764.9 million, according to Refinitiv consensus estimates. Twitter said it expects its cash operating expenses to increase about 20 percent year over year in 2019 to bolster its initiatives across "health, conversation, revenue product and sales, and platform."
Twitter also said it will stop reporting MAUs after the first quarter because it will switch to a new metric, monetizable daily active users (mDAUs) to reflect its audience.
Twitter fell short of MAU estimates for the two previous quarters.
The company blamed a July purge of "locked" accounts aimed at getting rid of bots and fake users as well as "a number of factors including: GDPR, decisions we have made to prioritize the health of the platform and not move to paid SMS carrier relationships in certain markets, as well as a product change that reduced automated usage and a technical issue that temporarily reduced the number of notifications sent."
Twitter noted it is now reporting mDAUs rather than daily active users. The company said mDAUs measures "Twitter users who log in and access Twitter on any given day through Twitter.com or our Twitter applications that are able to show ads."
Twitter said its mDAUs are not comparable to disclosures from other companies because its peers tend to share "a more expansive metric that includes people who are not seeing ads." The company said it will now report average mDAUs for both U.S. and international markets.
Twitter reported mDAUs of 126 million for the quarter compared with 115 million a year earlier. It said average U.S. mDAUs were 27 million for the quarter compared with 25 million in Q4 2017, while average international mDAUs were 99 million for the quarter versus 89 million a year earlier.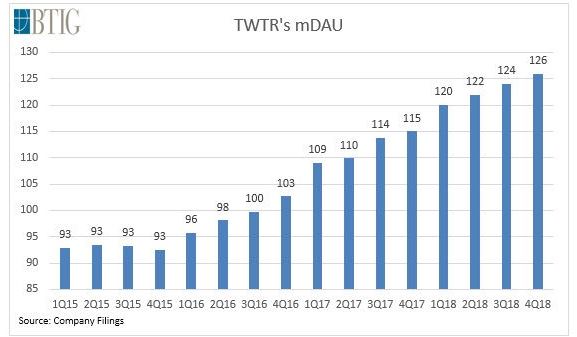 Source: Twitter
Users Might Not Be a Large Group
Other analysts were not encouraged by the change:
"To an extent that metric shields Twitter from direct comparisons with its competitors, because it doesn't quite tell the whole story.
For instance, earlier this week Snapchat reported that it has stopped shedding users and is keeping the service afloat at 186 million daily users—but it's not clear how many of those daily users are monetized by Snapchat.
And Twitter's numbers trail far behind that of Facebook, which reported 1.52 billion daily users in for the fourth quarter of 2018 despite having a shitshow of a year. As for Instagram, the platform was reported to have 400 million daily users for its Stories features alone in June last year.
At the very least, Twitter can be happy it successfully surpassed the 27.3 million viewers who tuned in to the Roseanne premiere."
Others noted there is a relatively narrow audience for Twitter:
"It's also comprised of a relatively small swath of the public, at least according to new figures released by Twitter itself. In a fourth-quarter earnings report published Thursday, the company claimed only an average of 27 million daily active users in the United States over the time period.
("Monetizable daily active usage or users" are defined in the report as "Twitter users who logged in or were otherwise authenticated and accessed Twitter on any given day through twitter.com or Twitter applications that are able to show ads.")
Using World Bank data from 2017, that comes out to about 13 percent of the 15-to-64 year-old population, and 8.2 percent of the total population, according to data pulled Thursday from the Census Bureau.
Polling provides more insight. A Pew survey from 2018 found 24 percent of adults said they used Twitter. Within that group, only 46 percent of respondents reported using it daily, with 25 percent saying they used it weekly, and 29 percent saying they used it "less often" than that.
For comparison, 68 percent of adults said they used Facebook, with 74 percent using it daily. Thirty-five percent used Instagram, with 60 percent using it daily, and 27 percent used Snapchat, with 63 percent using it daily."
These numbers might create a confusing picture for investors. The next chart might help sort through all of the opinions.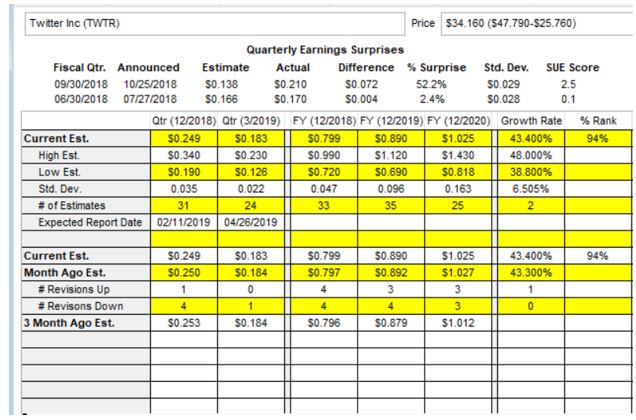 Source: AAII
This is a look at the company's expected earnings per share. Even after the recent decline the stock is priced at about 30 times 2020 expected earnings. That could be expensive for a company that has frequently disappointed both investors and customers.
There are risks to the stock and put options could be an opportunity to profit from those potential risks. A put option can increase in value when the price of a stock declines. That could be the best opportunity to trade Twitter right now.
If you are serious about trading, this is a must have right now. Click here for details.