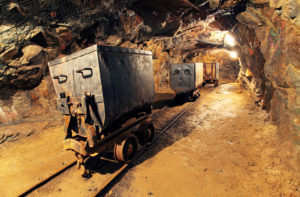 Big bet that copper mining giant will move at least 10 percent higher by early July.
At least one trader is betting on a 10 percent pop in Freeport McMoRan (FCX) in the next month.
On Thursday, nearly 5,900 contracts traded on July 5th $11 calls. With shares just over $10, they would need to rally nearly $1, or about 10 percent, for these calls to expire in-the-money.
The Time to Invest in 5G Is NOW

Happy Woman Holding Phone AT&T has just become the first carrier to offer 5G coverage.

Sprint's 5G network is live in Phoenix, New York City, Washington, D.C., and Los Angeles.

T-Mobile has flipped the 5G switch in six cities...

And Verizon has launched its 5G network in 13 cities.

Nearly a decade in the making, 5G is finally here...

And just ONE stock is your No. 1 chance to profit from the 5G revolution.
With a prior open interest of 102 in the contract before the trade, this is a big move.
As a copper producer, Freeport is best-in-class. However, copper prices have been weak year-to-date, amidst trade war fears.
In investing circles, copper is often known as Dr. Copper. This is due to its propensity to predict a recession, as falling copper prices reflect reduced demand. Copper is used in nearly every physical industry, from wire and piping to higher-end electronics.
Action to take: Consider a stake in Freeport. A call option with a September date and $11 strike will give you more time for a bounce in copper to play out. But shares could be an interesting long-term buy here as well. New copper supplies are failing to meet up with current demand, and a shortage is likely to develop in the next few years as this trend continues.