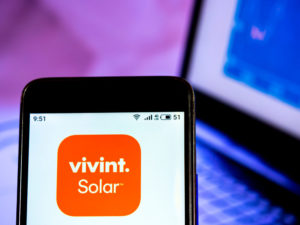 Some companies see a continuous flow of insider selling for many years. Sometimes they are newer companies where major shareholders cash out. As a result, the steady stream of selling can mask over more significant periods of selling. That's where looking at the number of shares sold, and the number of transactions can be helpful to identify periods of significant selling. For Vivint Solar Inc (NYSE: VSLR), insiders escalated their sales and shares to historic levels just before Thursday's sell-off.
Insiders for Vivint own approximately 2.1 million or 1.91% of the company's shares. Institutions currently own 34.83% of the 125.51 million of the shares outstanding. The current level of institutional ownership is the highest in the company's history.
August wasn't the highest month in terms of insider sale transactions, but it was one of them. The month with the highest number of insider sale transactions was December 2019 with 12. While Augusts total of nine insider sale transactions wasn't the highest, it did have the highest number of shares at over 13 million.
Action to Take: The price volatility makes this a risky stock to short. Using options to define your risk can be a way to play the downside. Speculators may want to consider buying the 16 OCT 20 27/26 long put vertical for around $0.40 or less. Consider closing early for around $0.80 or more.